The Community Foundation for Crawford County held its annual meeting and celebration event last week at the Trillium Event Center in Bucyrus. Opening comments were made by Lisa Workman, President of the Foundation, to a crowd of about 77. Attendees learned about the book, "New Power" and listened to a video of its author, Henry Timms, who also created the international day of philanthropy and kindness known as #GivingTuesday. Workman encouraged the crowd to "take off our letterman jackets and harness the connections of our larger, Crawford County crowd." She applauded local efforts that have produced an increase in Crawford County's 20-29 age group population, as well as a 2% increase in the county's education attainment level.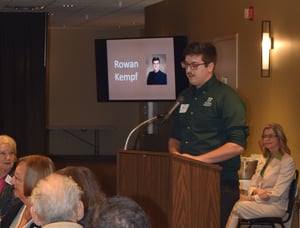 Rowan Kempf, recipient of one of the Foundation's first Come Home Scholarship awards, was on hand to thank the crowd for their support. He explained that he and his partner just did not feel the sense of community when they were living in Columbus that they felt here, and so this scholarship was a nice enticement to move back home. Under the terms of the Foundation's Come Home Scholarship program, recipients receive payments on their college debt in return for moving back to Crawford County to live and work.
The evening concluded with much applause and celebration, as 2017 had been a banner, record breaking year for the Foundation. This included the fact that the Foundation grew in total assets from $14.3 million in 2016 to $18.2 million in 2017. In addition, scholarships awarded grew from $23,000 in 2016 to $66,000 in 2017.
Besides appetizers, drinks and socializing, audience members enjoyed touring the Crawford County Sports Hall of Fame, which has found a permanent home at Trillium Event Center. The Foundation's vision is bridging philanthropy with causes that improve Crawford County's quality of life.