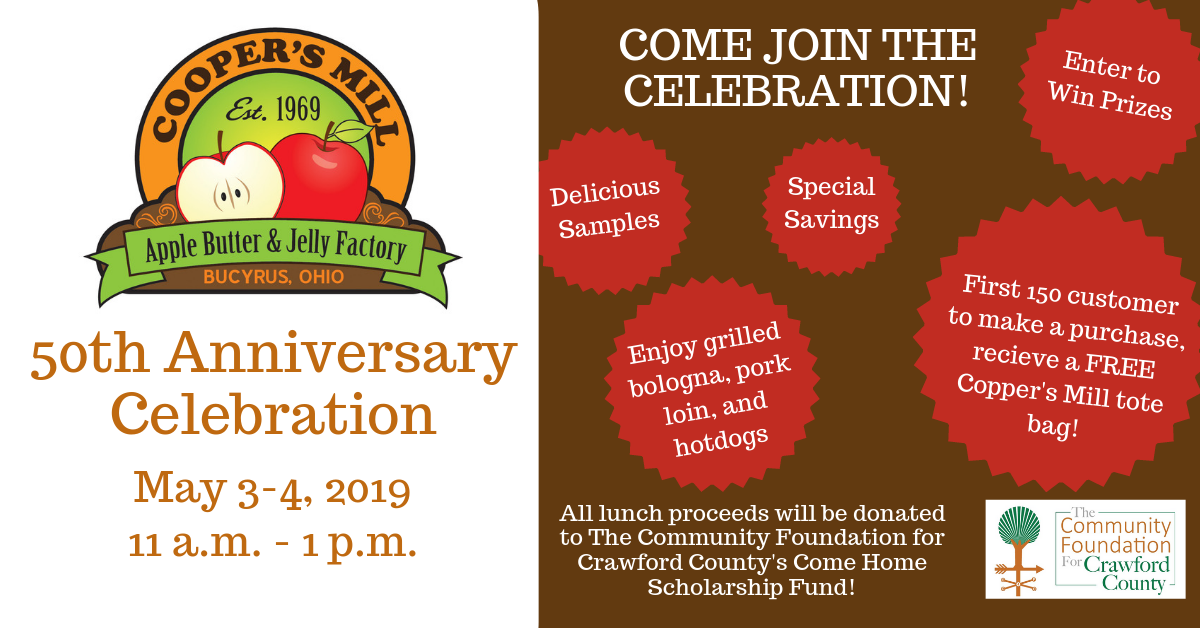 Cooper's Mill announces its "50th Anniversary Celebration" to be held on May 3-4, 2019 at its retail marketplace in Bucyrus, OH. This event is designed to celebrate the advent of spring and the five decades of flavorful tastes from Cooper's Mill.
David and Miriam Cooper began Cooper's Mill in 1969 alongside their Bucyrus home with just a picnic table and a desire to share their homegrown fruits and vegetables with others. In 2013, brothers Jason and Justin McMullen, owners of Crossroads Original Designs, purchased Cooper's Mill and continue to produce the same high quality, homemade jams, jellies and apple butter using the same recipes that have been passed down for generations.
"This year we are proud to announce the addition of several new products to the already extensive line of fresh, wholesome products locally produced at Cooper's Mill," stated Justin McMullen, Vice President of Cooper's Mill. New products include Strawberry Applesauce, Peach Syrup, Screaming Sriracha BBQ Sauce and Bloody Mary Mix. Dan Cooper, son of Cooper's Mill founders Dave and Miriam Cooper, is the mastermind behind the new recipes that have been developed. " I love creating new flavors, and I love the challenge each new product brings in getting the flavor combinations just right," stated Dan.

Rhonda Baldwin, Manager of Cooper's Mill exclaims, "If you have not stopped by Cooper's Mill & Market recently, now is the time to do so. We are launching several new lines of food products and we are excited to share delicious samples of them with our guests."
Come celebrate with us Friday, May 3 and Saturday, May 4 from 11:00 a.m. until 1:00 p.m. Enjoy delicious samples, enter to win prizes and enjoy special savings on select products in the market. The first 150 customers who make a purchase on Friday will receive a complimentary Cooper's Mill tote bag! Guest grillers will be serving up German bologna, pork loin and hotdogs Friday and Saturday from 11:00 a.m. – 1:00 p.m. for a donation. All money collected will be donated to The Community Foundation for Crawford County.
For more information about Cooper's Mill please www.facebook.com/coopersmillohio.