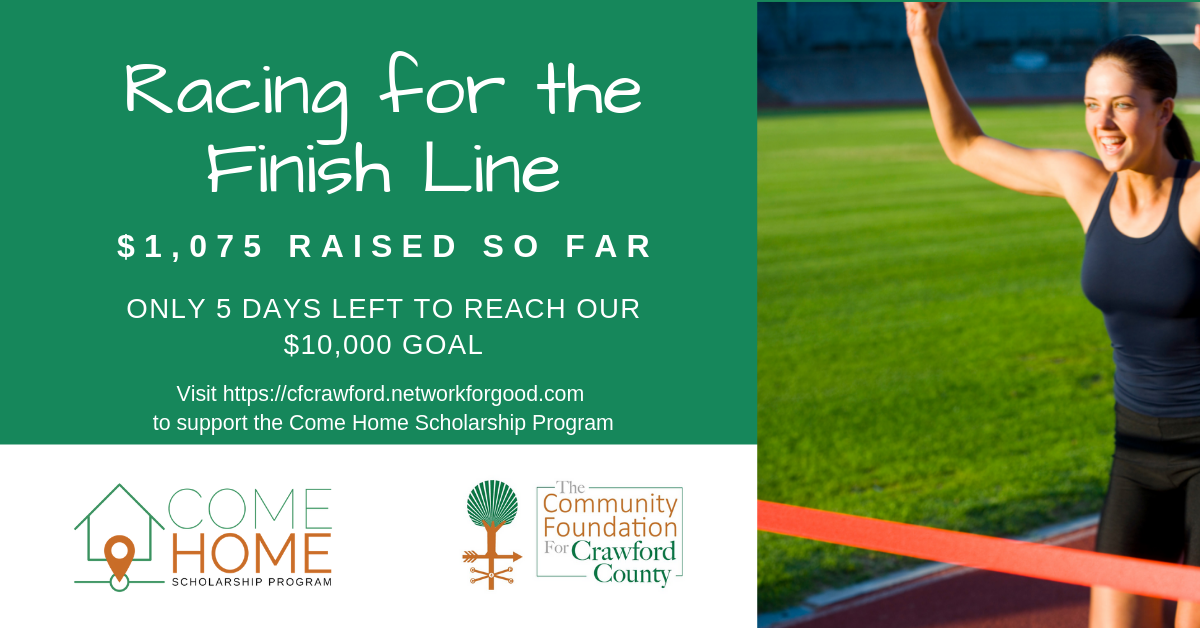 Will you race with us to the finish line? Please help us meet our $10,000 goal by May 21, 2019. All funds raised will support the Come Home Scholarship Program.
"In only 3 days, our fundraisers have managed to raise $1,075," exclaimed Lisa Workman, Foundation President. "With 5 days left in our campaign, we know that our supporters will help us reach our goal."
What is the Come Home Scholarship Program?
The Foundation launched the Come Home Scholarship Program in 2017 - becoming the 1st in Ohio and 4th in the nation to implement this concept. Former Crawford Countians who have completed a certificate program or college degree in the last 7 years are encouraged to apply for a Come Home Scholarship award of up to $10,000. These awards are paid on the "back-end" of higher education, awarding money toward student debt after the completion of a degree. In return, recipients must commit to move back home to live and work in Crawford County.
What are the benefits of this kind of scholarship?
We are reducing the burden of student debt for the recipient. Student debt is preventing or delaying borrowers from making major life decisions. According to an article on Forbes.com, "Overwhelming debt prevented 80% of borrowers from saving for retirement, 56% from buying a home, 42% from buying a car, and 50% from contributing to charity...one in three [respondents to a survey] said such debt is the biggest stress in their lives."
We are contributing to our county. Enticing former Crawford Countians to come live and work here has tremendous benefits to our county. We can increase our declining population. We can increase our level of educational attainment and talent retention. We can increase our tax base. All other these factors help to boost our economy.
How can you help? Become a fundraiser or donate today!
Starting a fundraiser is EASY to do, and it's FUN! Go to https://cfcrawford.networkforgood.com and click on the "Become a Fundraiser" button to start the 5 easy steps. They give you all the tools you'll need. By sharing your fundraising page with your extensive network network of contacts via social media, emailing, and text messaging, you can easily raise money for the Come Home Scholarship Program!
Should you choose not to become a fundraiser, please consider making a donation at https://cfcrawford.networkforgood.com. No matter how big or small, every donation makes a difference.
To see more details about the Come Home Scholarship Program, please visit our website at https://www.cfcrawford.org/come-home-scholarship.