Lets make #Giving2sday, December 3rd, a
Day of Philanthropy in Crawford County!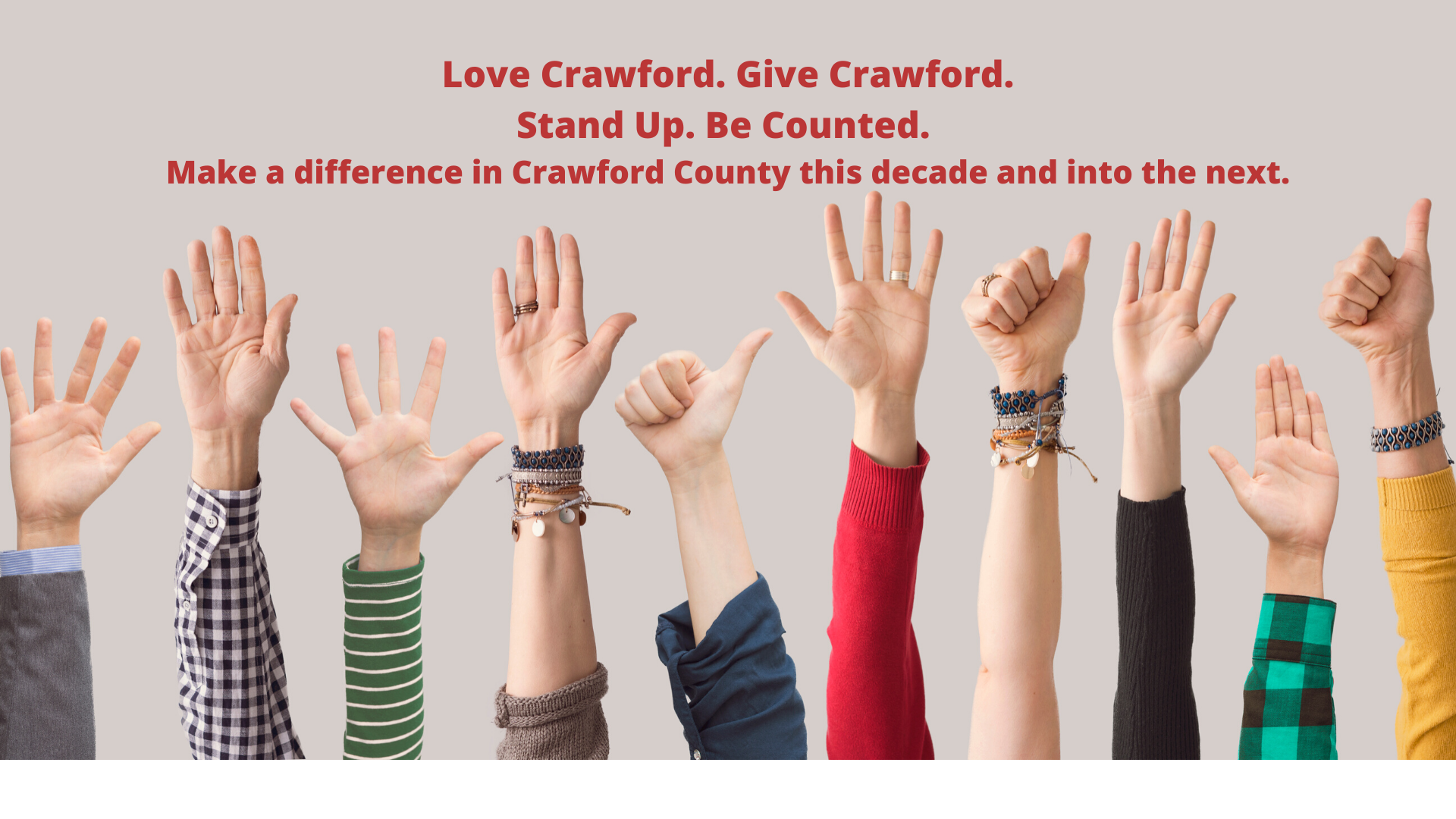 Click the picture above to go to your fundraising site and view our #Giving2sday 2019 Video!
The Community Foundation for Crawford County has been ensuring a forever future for Crawford County and its citizens since 1984. Your support and belief in our cause keeps us going strong.
We have launched our annual campaign,#Giving2sday, for its fifth year, and ask that you help us make it another record breaking year!
In the last 10 years, the Foundation has given more that $2.8 million to the local community out of the Crawford Impact Fund. Those dollars have helped fund some amazing accomplishments:
The opening of the Crawford Success Center, a satellite of North Central State College, right here in Crawford County

The start of the first Come Home Scholarship Program in Ohio and the fourth such program in our nation

The creation of the award winning website, Community Opportunity at www.communityopportunity.com, that connects local businesses with local talent in our area

The establishment of Crawford Works, a program that helps the chronically unemployed on the journey to self-sufficiency
This is by no means a complete list, but rather a sample of the good that the Crawford Impact Fund has been able to do in our community. With that said, we ask that you please consider giving a portion of your donation to this fund this year. In doing so you can help the Foundation fund and support the dreams and goals of the Crawford County community into the next decade.
The Foundation's Board of Trustees once again approved to set aside $25,000 to distribute to our participating funds on a pro-rated basis. What does this mean? Every donation on #Giving2sday generates an additional donation from the Foundation to the fund(s) the donor chose.
In order for gifts to be eligible to receive this additional donation from the Foundation, the donation must…
Be made ONLINE from NOW THROUGH DECEMBER 3, 2019 (Indicate in the donor scroll what fund(s) you would like your gift to support.)
OR
Be DATED 12/3/19 IF A CHECK and mailed or dropped off to the Foundation at 254 E. Mansfield Street, Bucyrus, OH 44820. (Checks should be made payable to The Community Foundation for Crawford County or TCF4CC, and write the name of the fund(s) you want your gift to support in the Note/Memo line of your check.)
To view a list of the #Giving2sday participating funds, click here.
CONTEST! CONTEST! CONTEST!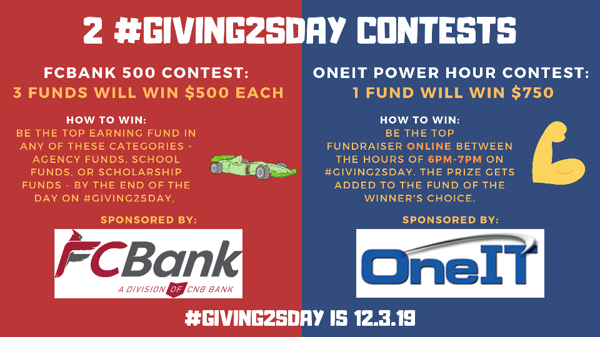 Don't wait - start a fundraiser or give today!