Additional Scholarship Resources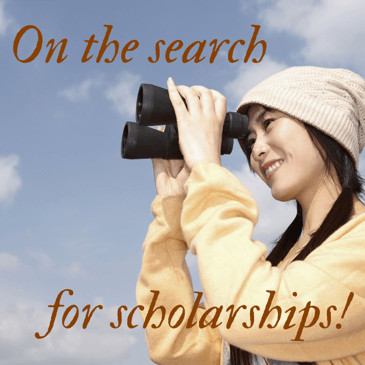 Searching for scholarships can seem daunting. Don't get discouraged.
Tips from the Foundation
Search in the following order...

1) Local Scholarships: Check with the community foundation, organizations, and businesses in the county in which you currently reside. Check with the community foundation, organizations, and businesses in the county in which you graduated high school. Your odds of winning a local scholarship are better than the odds of you winning a national scholarship simply because the number of applicants that will apply is always going to be smaller.
2) Scholarships at the College/University you are going to be attending: Most colleges and universities are going to have a Foundation that offers scholarships for students attending their college. Many but certainly not all are based on what degree you are pursuing. Don't forget to check with the Financial Aid or Student Services Offices as well.
3) National Scholarships: Do not discount these scholarships. Just because they are national doesn't mean you couldn't win them. Many times the scholarship is judged only on a written essay.

Search every year. Check back with the community foundations and places mentioned above every year. New scholarships are started all the time, and some are renewable if you reapply.
Fill out your FAFSA (FREE Application for Federal Student Aid) as soon as possible. The FAFSA application is open on October 1st of every year. If any of the scholarships you are applying for have a financial need component, most of the time you must attach your SAR (Student Aid Report) from your FAFSA to your application. Check out the

U.S. Department of Education's blog

for easy-to-follow, step-by-step tutorials on filling out FAFSA forms online OR use North Central State College's Complete the FAFSA in Just Five Steps which includes a FSA ID Worksheet to fill out and keep in a safe place.
Be mindful of deadlines. Don't start your application at the last minute. Many scholarships have a deadline of December 31st.
Apply. Apply. Apply. Simply said - if you do not apply for a scholarship, you cannot win a scholarship. You would be astounded by the number of scholarships that are not given out simply because no one applied.
A preference is NOT a requirement. Just because you do not meet a preference listed for a scholarship, doesn't mean you should not apply. For example, Scholarship X has a preference that the applicant be attending OSU Marion Campus. Should you apply if you are not going to OSU Marion Campus? YES, you should. What if there are no applicants going to OSU Marion Campus that year? Well then that year you have an equal chance of winning Scholarship X as all the other applicants.
Financial Aid Resources
Federal Student Aid is an office of the U.S. Department of Education that deals with financial aid. They have a wide variety of resources on this subject.
Financial Aid Office
Another great resource for financial aid is the Financial Aid Office of the college or university you will be or are attending.
FinAid.org offers students a one-stop shop for information on all types of financial aid and financial aid resources.
Guides for Scholarship Search Platforms
HonestProductReviews.com is a website dedicated to create honest product reviews, free of all the fake spam on the internet. It's a goal they strive for using Honest and Technology. They have put together a research guide for students searching for scholarships, Best Scholarship Search Platforms.
Review.com
Review.com is a website dedicated to conducting data driven and unbiased research about topics that can help make an impact in people's lives. With over a million different scholarships available, they found that for many students finding all the available scholarships can be a real challenge. After countless hours of researching the 17 most popular scholarship search platforms, Review.com analyzed and graded them using five core metrics, including functionality, scholarship availability, quality, application tools, and additional helpful resources. They created a very helpful guide, The Best Scholarship Search Platforms, for students searching for scholarships.
Scholarship Search Engines/Platforms
College Board is a non-profit organization that develops and administers standardized tests and provides resources such as college planning, recruitment and admissions, financial aid, and retention to both students and their families as well as colleges and universities. Their scholarship database is called "Big Future."
Fast Web is an online scholarship search engine with additional resources such as financial aid and career advice. Fast Web matches members to relevant scholarship opportunities completely free of charge.
Scholly is an online and mobile platform that matches students with scholarships.
Use this free search tool to look through more than 8,000 scholarships, fellowships, grants, and other financial aid award opportunities.
Scholarship Search Information
The demand for STEM-based careers is growing at an exponential rate as our economy continues to shift and grow it's technology sector. By 2020 there's expected to be a 26% increase in STEM-related jobs - more than a million new jobs in the U.S. alone. But of those millions of STEM-related jobs - only 24% are occupied by women. BestColleges.com was inspired to create a resource for women to encourage and provide information to the most-asked questions regarding the pursuit of a career in a STEM field. Check out their article, Women In STEM. Their resource provides information such as...

Average salaries & earnings for top STEM careers
Gender representation figures in STEM careers
Scholarships for students looking to pursue a STEM degree
Caring.com has researched, compiled, and continually updates a list of available Student Caregiver scholarships and information. If you are one of the estimated 1 million young caregivers in this country, make sure to check out their site.
Edsmart.org is a website with many helpful articles on furthering your education after high school, including academic success, colleges, programs, community colleges, and more.
Check out these great resources:
The hp.com website has a great article, Computer Science and Engineering Recourses for Women in STEM, that provides information on...
Why Are There So Few Women in STEM Degree Programs and Jobs?

STEM Programs for Young Women

STEM Degrees and Careers for Women

Financial Aid and Scholarships for a STEM Degree

Campus Clubs and Initiatives for Women in STEM

and many more great Women in STEM Additional Resources
*A special thanks to student volunteer, Megan, and library media specialist, Mrs. Coleman, for finding and recommending this article to our webpage!


According to the U.S. Department of Education's Teacher Shortage Areas Nationwide Listings Report, Ohio shows a need for well-trained teachers in all grade levels and especially teachers in art, music, and language disciplines.
As teaching requirements vary by state, teachingdegree.org has published guides detailing the process of obtaining a teaching degree and certificate in each state.
Here are a few resources for Ohio students looking to obtain a teaching degree:
Local Scholarships
Scholarship opportunities may be available through employers, individuals, private companies, nonprofits, communities, religious groups, and professional and social organizations.
Area Agency on Aging Scholarships
The Area Agency on Aging Board of Trustees elected to provide three (3) scholarship awards this year to individuals for higher education or classes benefitting the field of aging. Scholarship award amounts for the academic year 2022/2023 are as follows: One (1) $2,000.00 for a student attending a 4-year university; One (1) $1000.00 for a student attending a 2-year college or technical school; and One (1) $1000.00 for a student attending any type of higher institute of learning or enrolled in an accredited program for certification. Applicants must be a high school graduate and reside in one of the following 9 counties: Ashland, Crawford, Huron, Knox, Marion, Morrow, Richland, Seneca, or Wyandot.
Bucyrus Community Hospital Auxiliary Scholarship
This scholarship is open to all Buckeye Central, Bucyrus, Colonel Crawford, and Wynford high school seniors interested in pursuing allied medical, medical, allied dental, or dental careers. Applications are obtained through the high school guidance counselors and interviewing with the Bucyrus Community Hospital Auxiliary's Scholarship Committee. Please direct all questions to Patty Hope, Bucyrus Community Hospital Auxiliary Scholarship Committee Chair at 419-562-7431 or email gjhope@bright.net.
Crawford College Connection is a not-for-profit organization started in October 2000 to provide college access services to students and their families in Crawford County. They administer a number of scholarships and have a list of scholarships in the area and where to obtain applications. You may contact their director, Margaret Thornton, by phone at 419-562-9957 or email via mthornton@teamthornton.com.
Crawford County Farm Bureau Scholarship
Crawford County Farm Bureau wishes to support and further the education of Crawford County high school graduates by offering two $500 scholarships. Applicants may be high school seniors, current college or graduate school students and must be residents of Crawford County. Parents/legal guardians of applicants must be members of Crawford County Farm Bureau. Applicants must be enrolled as a full-time student in a four year or two year university, an apprenticeship program or a trade school. For more information email crawford@ofbf.org.
The Crawford Success Center is a satellite school of North Central State College and provides scholarships to those who will be regularly enrolled students at the Crawford Success Center during the 2022-2023 academic year. (A regularly enrolled student is one who has graduated from high school, or received a GED, and is seeking to earn an NC State degree or aid-eligible certificate.) Only students who have applied and been accepted to the college will be considered. All applicants must have on file a current FAFSA. NC State's FAFSA code is 005313.
Contact the Crawford Success Center at 419-755-9039 if you have questions.


J & F Construction & Development Inc Construction Scholarship - Check with CC Guidance Counselor Office
COLONEL CRAWFORD GRADUATING SENIORS OR GRADUATES ONLY: This scholarship was created by Jim Mayes, CEO/President of J & F Construction & Development Inc. to promote construction management in the business community in Crawford County and surrounding areas. This scholarship shall assist students enrolled in construction and construction-related classes at any 2 or 4 year college or University and assist any students who intend to pursue, or are pursuing, a degree leading to a career in the construction industry or related fields. The paper application may be found at the Colonel Crawford High School Guidance Office. Please turn the completed application into the CCHS guidance office, and if mailing the completed application to the CCHS guidance office, it must be postmarked the deadline date.
Firelands Federal Credit Union
Firelands Federal Credit Union will award $11,000 in scholarships for continuing higher education to high school seniors that are credit union members or dependents of members.
First Federal Community Bank will award a $500 scholarship each year that is renewable for up to 4 years.
Students from schools in Crawford County, Richland County, and Morrow County (with stipulations and exceptions as detailed in individual scholarship descriptions) are eligible for these scholarships. Applications for all scholarships are available at Galion High School, regardless of school applicant attends.
Most of the scholarships are geared towards Marion County students, but there are a handful for which Crawford County students are eligible.
North Central State College provides qualified students with academic, financial need, and general scholarships for college-related expenses. There are scholarships available for new and current students as well as full-time and part-time students.
*Their website has a very good list of outside scholarships from around Ohio.*
Ohio Mutual Crawford Opportunity Award
Ohio Mutual Crawford Opportunity Award is an annually renewable $1,500 scholarship offered to three individuals either living in or attending in Crawford County whose chosen field of collegiate study aligns with emerging opportunities in the insurance industry. Applications will be available from the guidance counselors in all Crawford County public and private schools, or by emailing crawfordopportunity@omig.com.
William Ferrell Scholarship
COLONEL CRAWFORD GRADUATING SENIORS ONLY: This scholarship is in memory of William Ferrell who served as superintendent of Colonel Crawford Local Schools for 23 years, retiring in 1997. The paper application may be found at the Colonel Crawford High School Guidance Office. Please turn the completed application into the CCHS guidance office.
Additional Scholarships
This Scholarship Fund was founded by a small group of former Amish with big dreams - to help other former Amish realize their dreams of earning a college education.
BadCredit.org's Weatlh Wise Scholarship is open to US undergraduates and graduate students seeking a career in the finance industry. Applicants must be a current or future college student (e.g. high school senior). The scholarship amount is $1,000 and will be awarded based on academic merit and submission of a short essay to be titled How the US Credit Scoring System Can Be Improved. Deadline is December 31st. See their website for more details.
Each year the National Society Daughters of the American Revolution (DAR) awards multiple scholarships to students showing dedication to the pursuit of higher education in diverse areas of study including history, economics, law, political science, medicine, nursing, occupational and physical therapy, elementary and secondary education, chemistry, math, science and English. Online applications are accepted. See their website for more details.
Elks National Foundation Most Valuable Student Scholarships
The Elks National Foundation awards 500 four-year scholarships to the highest-rated applicants each year. Male and female students compete separately.
Ranging from $1,000 per year to $12,500 per year, Most Valuable Student scholarships are for students pursuing a four-year degree, on a full-time basis (minimum of 12 semester hours), in a U.S. college or university. All scholarships are in the form of certificates of award conditional upon the full-time enrollment of the winner in an accredited U.S. college or university.
The Chicago office of the Elks National Foundation will announce the 2020 500 national winners in late April 2020. (Many local Lodges, districts and state Elks associations award their own scholarships.)
Firelands Electric Cooperative Scholarship
Firelands Electric Cooperative awards $10,600 in scholarships each year to outstanding high school seniors who reside in a home served by the co-op. The young man or woman chosen as Firelands' top overall applicant is also eligible to compete for an additional scholarship, worth up to $3,800, at the statewide contest sponsored by Ohio's Electric Cooperatives. They also offer children of employees of Firelands Electric Cooperative scholarship opportunities as well.
The Florence Allen Scholarship
Scholarship funds may be used for courses at accredited degree-granting institutions recognized by a state Board of Regents. Must be female, US citizen, and pursuing their first undergraduate degree. Applications can be requested by email via allenendowment@gmail.com.
The Garden Club of Ohio Scholarships
The Garden Club of Ohio annually awards scholarships to college freshmen, sophomores, or juniors majoring in fields including horticulture, agriculture, botany, environmental sciences and more. Students must have a GPA of 3.25 or higher. Please contact Scholarship Chair, Aggie Goss, with any questions at 440-526-6313 or aggiegoss@yahoo.com.
OAC annually offers scholarships to assist students in pursuing a career in an agricultural-related field. Scholarships are available to high school seniors preparing to enter college or any undergraduate student currently enrolled in college. Applicants or their parent or legal guardian must be a resident of Ohio. Scholarships are selected based on academic record, leadership qualities, community involvement and responses to application essay questions. Scholarship recipients are also provided a one-year complimentary student membership in OAC.
The Ohio Association of Garden Clubs Foundation Scholarships - Deadline March 31st of each year
The Ohio Association of Garden Clubs Foundation annually awards scholarships to students attending an Ohio college, university or technical school studying for a career in the fields of horticulture, conservation, nature and beautification, landscape design, landscape contracting, commercial florist or floral arts. Application deadline is March 15th each year.
Ohio Farm Bureau Foundation Scholarships - Various Deadlines
The Ohio Farm Bureau Foundation annually awards scholarships to students planning to pursue careers in agriculture and to adults seeking continuing education in agriculture-related studies. To support the future of agriculture throughout Ohio, each county has a scholarship fund to allot to its local students. Other scholarships focus on specific issues such as women's leadership in agriculture, livestock and crop sciences at the Agricultural Technical Institute, sheep production and management, and more. Collectively, these programs awarded over $50,000 in 2021, each featuring awards from $500 to over $3000. Visit ofbf.org/counties to access the county websites for more information on their particular scholarship opportunities.

The site has an option to filter their scholarships. If you select, Crawford County only, the following are scholarship available for Crawford County students...

Cindy Hollingshead Scholarship
Richard & Carole Cocks Scholarship
Women's Leadership in Agriculture Scholarship
Dr. Jack Judy Scholarship
Ralph H. Grimshaw Scholarship
Darwin Bryan Scholarship
Jack Fisher Scholarship
Ohio Farm Bureau Scholars Scholarship
Ohio Sheep Improvement Association (OSIA) LEAD Scholarship

Ohio undergraduate credit union members have the opportunity to apply for one of three scholarships ($5,000, $2,500 & $1,000) by creating an interactive 1 to 2½-minute video. Check out their website for more details.
Ohio Gas Association Scholarship Foundation
Scholarships for OHIO residents attending or planning to attend an accredited OHIO college, university, technical or trade school. Applicants must be a U.S. citizen or legal resident, have a career goal in the crude oil and natural gas industry, or related energy field, and have and maintain a GPA of 3.0 or higher. Scholarships are limited to undergraduate college studies, technical, or trade school programs.
Ohio Oil and Gas Energy Education Foundation Scholarship
This scholarship program targets students pursuing careers in the crude oil and natural gas industry. Must be an OHIO resident OR a student attending, or planning to attend, an accredited OHIO college, university, technical or trade school. Each scholarship is worth a minimum of $1,000 per year and can be renewed for up to four years. Applicants must be a U.S. citizen, have a career goal in the crude oil and natural gas industry, and have and maintain a grade point average (G.P.A.) of 2.5 or higher.
The Ohio Soybean Association, the membership and policy arm for Ohio soybean farmers, is offering one $1,000 scholarship to students of any major with a passion for the soybean industry. The scholarship will be applied the 2022-2023 school year. Applicants must be a child or grandchild of an OSA member or be a Student and Young Adult Member themselves (SYA membership is free). Those interested should complete the form on their website. Contact Emilie Regula Hancock at eregula.hancock@soyohio.org with questions.

The Ohio Soybean Council Foundation (OSCF) has scholarship opportunities for undergraduate and graduate students. The scholarship program encourages undergraduate and graduate students at Ohio colleges and universities to pursue degrees in one of the many academic fields that support the future of the soybean industry, including agriculture, business, communication, economics, education, engineering, science and technology
Adel A. Malak Scholarship
OPEDA Scholarship Program
Saul T. Wilson, Jr., Scholarship Program (STWJS)
USDA/1890 National Scholars Program
USDA/1994 Tribal Scholars Program
William F. Helms Internship Program
The VFW is dedicated to promoting patriotism and investing in our future generation. If you are a democracy-loving high school student interested in a $30,000 college scholarship, check out their Voice of Democracy audio-essay program. It provides high school students with the unique opportunity to express themselves in regards to a democratic and patriotic-themed recorded essay. Read the rules and eligibility requirements, and download the 2021-22 entry form, as all student entries must be submitted to a sponsoring local VFW Post by the deadline.