The Community Foundation for Crawford County is pleased to introduce Bailey Agin, a 2018 recipient of one of the four Tyler Niese Memorial Scholarship awards.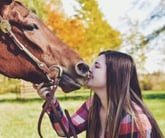 Bailey, the daughter of Brian and Lynette Agin, is a 2018 graduate of Buckeye Central High School. She will be attending Tiffin University this fall and studying law enforcement.
Bailey was inspired to make a difference. "In the law enforcement profession, I will be able to impact many lives," stated Bailey. "I have worked closely with the police chief…and he has helped me make my decision to become a police officer." After graduation, Bailey has plans for advancement. "I would like to start in a small setting but eventually work [my way] up into a K-9 unit of the Highway State Patrol."
Congratulations and good luck in the future, Bailey!
To learn more about the scholarships offered through the Foundation, visit www.cfcrawford.org.