The Community Foundation for Crawford County is pleased to introduce Brianna Durnwald, a 2018 recipient of one of the Margaret and Donald Wenner, MD Scholarship awards.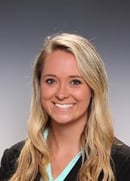 Brianna, the daughter of Roger and Sally Durnwald, is a 2010 graduate of Buckeye Central High School. She will be attending The Ohio State University and is entering her third year of a doctoral degree in Dental Surgery.
"From a young age, I have always wanted to become a dentist. My hygienist first peaked my interest into the dental field. After having braces and shadowing at numerous offices, I knew the profession was perfect for me. It allows me to be hands on and to interact with patients," Brianna explained. "Dental technology is growing at an exponential rate, and the field is always advancing. Most importantly, it is a profession that allows me to give back to my community and to make a difference in people's lives." With a goal of giving back, Brianna plans to return to the local area after graduation. "I would like to return and practice in Crawford County. I want to increase the access to quality dental care for my community. To do this, I would like to host events such as Give Kids a Smile which offers free dental care to kids in need as well as travel to nursing homes to provide care." Brianna concluded, "My community shaped me into who I have become and because of that, I want to give back to those people."
Congratulations and good luck in the future, Brianna!
To learn more about the scholarships offered through the Foundation, visit www.cfcrawford.org.