The Community Foundation for Crawford County is pleased to introduce Elizabeth Striker, a 2018 recipient of one of the two Marvis Schaaf Scholarship awards and one of the two Susan Campbell Memorial Scholarship awards.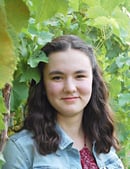 Elizabeth, the daughter of David and Kathryn Striker, is a 2018 graduate of Colonel Crawford High School. She will be attending Cleveland State University this fall and studying electrical engineering.
Many things have inspired Elizabeth to choose electrical engineering. "My brother is …an electrical engineer, and I've always looked up to him and enjoyed hearing about his profession," commented Elizabeth. "I've also always liked math and science, especially math, and I like the idea of using those skills in a career." She continued, "I also had the opportunity to shadow an electrical engineer at NASA and seeing his work really inspired me…" While in school, Elizabeth hopes to obtain an internship. "In college, I hope to participate in co-ops or internships with NASA Glenn in Cleveland or NASA in Houston, Texas or at a SpaceX location," she explained. "Therefore, I hope to pursue a career in the aerospace field after graduation." Ultimately, Elizabeth would like to "work as an electrical engineer at NASA in Houston, Texas."
Congratulations and good luck in the future, Elizabeth!
To learn more about the scholarships offered through the Foundation, visit www.cfcrawford.org.