The Community Foundation for Crawford County is pleased to introduce Katlyn Stull, a 2018 scholarship recipient of one of the nineteen Margaret and Donald Wenner, MD Scholarship awards.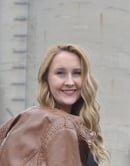 Katlyn, the daughter of Bill and Laurie Stull, is a 2018 graduate of Crestline High School. She plans to attend North Central State College this fall and study nursing.
A traumatic experience inspired Katlyn to pursue a career in nursing. In her own words, Katlyn explained, "In October of 2017, my brother, Dylan, got into a very bad car accident and was in the intensive care unit for a week. [He] then was transferred to the brain and spine institute as he had very severe bleeding and swelling in his brain. In this very hard time for me and my family, the staff gave us hope that he would pull through. I want to be able to give hope to other families." After graduating, Katlyn plans to continue her education. "I would love to be a nurse practitioner," she stated. "I'm not sure what I would like to specialize in yet."
Congratulations and good luck in the future, Katlyn!
To learn more about the scholarships offered through the Foundation, visit www.cfcrawford.org.