The Community Foundation for Crawford County is pleased to introduce Samantha Strickland, a 2018 recipient of the Larry Schiefer Memorial Scholarship award.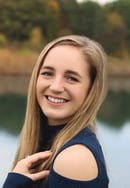 Samantha, the daughter of Drs. R. Todd and Rebecca Strickland, is a 2018 graduate of Wynford High School. She will be attending Bowling Green State University this fall and has an undeclared major.
Samantha is choosing to enter college with an undeclared major for two reasons.
"Firstly, I'm really not sure what I would like to pursue as a career…[and] secondly, I am undeclared not because I am indecisive, but because I am not impulsive. I'm aware of the numerous opportunities and options that exist, but with so many available I want to make sure that I am taking some time to consider what choice would be the best for me." After graduation, Samantha would like to come back to Bucyrus. "After graduating with a bachelor's degree in whatever field I choose, I intend to return to the Bucyrus area."
Congratulations and good luck in the future, Samantha!
To learn more about the scholarships offered through the Foundation, visit www.cfcrawford.org.