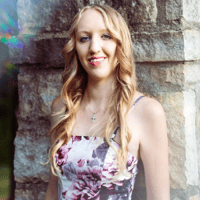 The Community Foundation for Crawford County is pleased to introduce Alexis Adams, a 2022 recipient of one of the 19 Doug and Renee Leuthold Scholarship awards, and one of the 19 Margaret and Donald Wenner, MD Scholarship awards.
Alexis, the daughter of Trent Allen Adams and Amanda Marie Bachtell, is a 2020 graduate of Bucyrus High School. She is in her third year of a Bachelor's Degree in Film at Ohio University.
What is your favorite aspect of college life?
"My favorite part of college would have to be the opportunities it allows you. I've gotten to try so many things I'd have a hard time trying otherwise. I've already joined the fencing club from when I first went off to college, but this semester I'm taking an archery class! In the spring, I'm even hoping to attempt an archery class. There are so many other experiences I could share as well, but in short, college gives you the chance to try anything and everything, which to me is the greatest thing ever. I'm always looking for a new adventure. Life's too short to do otherwise."
What new interest or courses of study have you discovered at college?
"Well, fencing has to be my favorite interest I've picked up. But I plan on trying out ice-skating and archery and potentially even a prop-making class. That last one would be useful to me as a film major as well. I've also found out that I rather enjoy hosting 'murder mystery' events (think Clue but in real life) for some of the organizations I'm involved with."
In what ways has the college experience changed/improved you?
"College pushes you to get out of your shell and try new things, so I'm far more extroverted and outgoing than I was before. I'm always looking forward to finding the next adventure or meeting new people!"
What advice would you give an incoming college freshman?
"Get involved with campus life. Go to that social event, festival, and join that club or sport you were thinking about joining. Have you always wanted to get into a new hobby, or learn a new style of dance? There's probably a student organization for it, so go and check it out! You might love it, or you might decide it's not the right fit and try something else, but it'll provide you with great memories that'll stick with you for a lifetime!"
What is one item on your bucket list?
"Probably the top of my bucket list would either be to go visit Japan, or to see the rainbow eucalyptus trees in Hawaii... I'm leaning more towards Japan, though. They've got cafes for everything, high-tech gadgets, and let's not forget the 300 or so flavors of Kit-Kats they have there. There's just so much that piques my interest over there; therefore, I feel like it'd be highest on my list."
Congratulations and good luck in the future, Alexis!
To learn more about the scholarships offered through the Foundation, visit www.cfcrawford.org/scholarships.