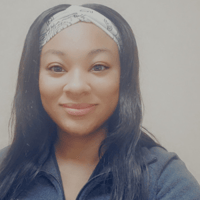 The Community Foundation for Crawford County is pleased to introduce Antania Delk, a 2022 recipient of one of the seven Arlene H. Smith Scholarship awards.
Antania, the daughter of Anthony Melton and Valeria Delk, is a 2013 graduate of Mansfield Senior High School. She will be studying Nursing at North Central State College this fall.
What is your favorite aspect of college life?
"My favorite aspect of college life is learning. I always love the experience of learning. I constantly take information I've learned from college and apply to my life."
What new interest or courses of study have you discovered at college?
"A course I really enjoyed in college was writing. Math and science were forever my favorite subjects. I was shocked when I started liking writing in college. I liked learning different styles of writing."
In what ways has the college experience changed/improved you?
"A particular class called College and Career Success improved my study habits. I never took a break to refresh my brain. I would study for hours with no breaks. I learned from this class taking 10 to 15mins from studying or homework has a consequence of refreshing my brain. In addition, walking away, I was understanding and memorizing information."
What advice would you give an incoming college freshman?
"I would advise a college freshman to constantly be willing to learn. A person can learn so much from college and other people. Learning is a good characteristic to have for college, working, and life. You should learn something new every day and apply what you learned to life. Learning can be a good or bad experience; however, you can take that learning experience and make a change."
What is one item on your bucket list?
"One item on my bucket list is to travel the world. I would love to learn and experience different cultures."
Congratulations and good luck in the future, Antania!
To learn more about the scholarships offered through the Foundation, visit www.cfcrawford.org/scholarships.