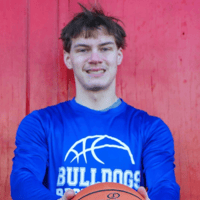 The Community Foundation for Crawford County is pleased to introduce Brandon Hiles, a 2022 recipient of one of the two Merle and Peg Hutson Scholarship awards and one of the two Richard A. Miller Scholarship awards.
Brandon, the son of Brandon Ross Hiles and Valerie Marie Hiles, is a 2022 graduate of Crestline High School. He is attending North Central State College and studying Accounting.
What inspired you to choose your intended major?
"I was inspired to choose accounting because I enjoy numbers. I have always loved math class, and it was always my best subject. I was always told 'find a career you love, and it won't even feel like you are working.' I believe accounting will be that job for me."
What are you career and life goals after you graduate?
"My career goal is to work for an accounting firm or for a company. I want to go to work and enjoy what I am doing. My life goals are to raise a family in a healthy environment. I want to be able to provide for my wife and my kids. I want to retire at a young age and travel the world and experience what I did not get to during my childhood."
Congratulations and good luck in the future, Brandon!
To learn more about the scholarships offered through the Foundation, visit www.cfcrawford.org/scholarships.