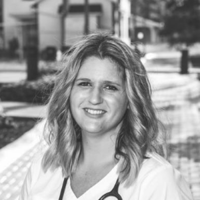 The Community Foundation for Crawford County is pleased to introduce Cheyenne Taylor, a 2022 recipient of one of the seven Arlene H. Smith Scholarship Fund awards, one of the 19 Doug and Renee Leuthold Scholarship awards, and the summer semester Pry Scholarship award.
Cheyenne is a 2010 graduate of Crestline High School. She is in her third year of a Bachelor's degree in Nursing at Knox Technical Center.
What inspired you to choose your intended major?
"A labor and delivery nurse that I had while delivering my oldest daughter."
In what way has the college experience changed/improved you?
"Being able to provide a stable career for myself to be able to provide for my children."
What advice would you give a non-traditional student who is contemplating taking college courses?
"Just go for it no matter how hard you think it is going to be."
Fun Question – If you could go back in time, but couldn't change anything, what time would you go to?
"Gettysburg 1863 to be a battlefield nurse."
Fun Question – What's something you love that everyone you know hates?
"Running."
Congratulations and good luck in the future, Cheyenne!
To learn more about the scholarships offered through the Foundation, visit www.cfcrawford.org/scholarships.