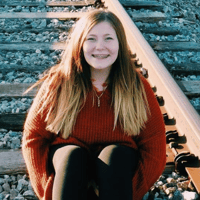 The Community Foundation for Crawford County is pleased to introduce Chloe Ard, a 2022 recipient of one of the 19 Margaret and Donald Wenner, MD Scholarship awards.
Chloe, the daughter of Nicholas Ard and Jennifer Ard, is a 2022 graduate of Bucyrus High School. She will be attending Marion Technical College this fall and studying Diagnostic Medical Sonography.
What inspired you to choose your intended major?
"I chose my intended major fairly late in life. I didn't even really plan on going to college. I chose to go to Pioneer Career and Technology Center for my junior and senior years, where I attended the Medical Technologies program. My lab instructor has been a L&D nurse in the past, and I had always had such a passion for infants/babies. I always loved watching people get an ultrasound done. With my love for infants and fascination for ultrasounds, I decided this program would be the best fit for me."
What are your career and life goals after you graduate?
"My career and life goals after I graduate consist of both basic goals that most people have and self-driven goals. After I graduate, I will be eager to find a job in my field. I would also like to create my family once I graduate. However it looks, I will be happy, but my life goal is to have a husband and two babies. I hope to achieve all my dreams, including owning my own home; however, life may be a struggle sometimes, and my dreams may be out of reach, but I am still hopeful. My ultimate dream is to make it big enough and have enough motivation to start my own little clinic where we perform all types of ultrasounds, whether it be internal or external."
Congratulations and good luck in the future, Chloe!
To learn more about the scholarships offered through the Foundation, visit www.cfcrawford.org/scholarships.