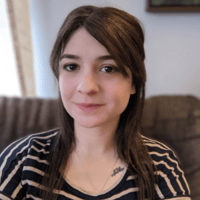 The Community Foundation for Crawford County is pleased to introduce Crystal Anderson, a 2022 recipient of one of the seven Arlene H. Smith awards, one of the 19 Doug and Renee Leuthold Scholarship awards, and one of the 19 Margaret and Donald Wenner, MD Scholarship awards.
Crystal, the daughter of Steve Anderson and Rhonda Allen, is a 2011 graduate of Galion High School/PCTC. She will be entering her second year of an Associate Degree in Registered Nursing at North Central State College.
What is your favorite aspect of college life?
"My favorite aspect of college life at North Central State College is the convenience. I am a mother of two children and work full time. North Central State College is conveniently located for me and the classes are flexible which allows be to better manage my time."
What new interest or courses of study have you discovered at college?
"I have developed an interest in human anatomy and physiology."
In what ways has the college experience changed/improved you?
"The college experience has improved my life by providing me with the knowledge to improve my skills and provided me with the tools necessary to succeed in my future career."
What advice would you give an incoming college freshman?
"I would advise incoming freshmen to complete work early if possible, and to stay organized in order to prevent missing assignment deadlines."
What is one item on your bucket list?
"One item on my bucket list is to travel and provide medical aide in developing countries because it is something I have always felt that I was destined to experience."
Congratulations and good luck in the future, Crystal!
To learn more about the scholarships offered through the Foundation, visit www.cfcrawford.org/scholarships.