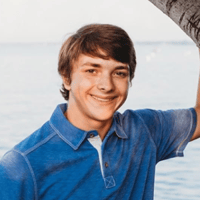 The Community Foundation for Crawford County is pleased to introduce Daniel Kurek, a 2022 recipient of one of the four Crawford County Sports Hall of Fame Scholarship awards, one of the two Kevin A. Binau Scholarship awards, and the Larry Schiefer Memorial Scholarship award.
Daniel, the son of Edward Kurek and Karissa Kurek, is a 2022 graduate of Wynford High School. He is attending the United States Air Force Academy and studying Mechanical Engineering.
What inspired you to choose your intended major?
"Personally, I have always been fascinated by science and engineering. While academics did its job in inspiring me to select a STEM career, the activity which has the greatest impact on my major choice was 4-H. I was in 4-H for about as long as I can remember, and through this program, I took a variety of projects ranging from cooking to electricity. However, the projects which truly sparked my interest were Robotics 1 and Robotics 2. These projects allowed me to truly explore the engineering process to devise unique ways to solve problems. Now, as an undergraduate in college, I have the opportunity to continue my education to take that next step forward to become a skilled, resourceful engineer."
What are your career and life goals after you graduate?
"I am currently attending the United States Air Force Academy. Having just finished Basic Cadet Training, I can proudly say that I have experienced the most challenging summer of my life. These past few months in Colorado have been incredibly significant in shaping my resolve and molding me into a better man. My goal has always been to graduate from college with a degree in mechanical engineering and become a pilot in the United States Air Force. While these basic goals are individualistic, my long-term goals are much more broad reaching. In my so-far short career in the Air Force, one of the most important things I have learned is the true value of teamwork and camaraderie. I have always been selfless and compassionate, yet the academy baked the essence of these values deep within my bones. Ultimately, I want to be a person who lifts others. I want to bring the best out in everyone, and I am committed to spending the rest of my life, both in uniform and as a civilian, dedicated to this cause."
Congratulations and good luck in the future, Daniel!
To learn more about the scholarships offered through the Foundation, visit www.cfcrawford.org/scholarships.