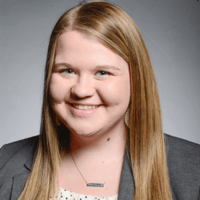 The Community Foundation for Crawford County is pleased to introduce Emily Rudd, a 2022 recipient of one of the two James E. Huggins Sr. and Margaret M. Huggins Agricultural Scholarship awards and one of the seven L. Earl Smith Scholarship Fund awards.
Emily, the daughter of Matt Rudd and Kim Rudd, is a 2019 graduate of Wynford High School. She will be entering her fourth year of a Bachelor's Degree in Agriculture with a concentration in Animal Science and Communication Arts at Wilmington College this fall.
What is your favorite aspect of college life?
"My favorite aspect of college life is the people you meet and the relationships you create. I have met many great people who have influenced me and pushed me to succeed in many ways. Meeting different people from all walks of life has made me a more well-rounded person, and I am forever grateful for my experiences meeting new individuals."
What new interest or courses of study have you discovered at college?
"I have fallen in love with policy work since moving to college in 2019. I have been fortunate enough to attend two lobby trips in D.C. with plans to attend my last trip in October before graduation. I love advocating for the agricultural industry and policy work is the best way to do so!"
In what ways has the college experience changed/improved you?
"I have become a more well-rounded individual through my experiences in college. I have met so many people from different walks of life and connected with so many personalities. Becoming involved in various organizations allows students to meet so many people. Through my involvement on campus, I have learned so much about myself and others."
What advice would you give an incoming college freshman?
"My advice to college freshmen would be to take in everything, and get involved as soon as possible. As a senior in my last semester, college goes so quickly, and you will hold on to the memories and friendships you make during your college years. Don't take this time for granted- absorb as much as you can!"
What is one item on your bucket list?
"One item on my bucket list is to travel to the world's largest agricultural industries. As Americans, we are fortunate to live in one of the largest. I would love to travel to Brazil, the Netherlands, or India to see the workings of agriculture in their countries."
Congratulations and good luck in the future, Emily!
To learn more about the scholarships offered through the Foundation, visit www.cfcrawford.org/scholarships.