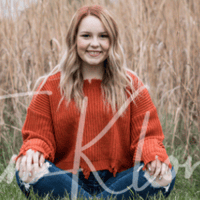 The Community Foundation for Crawford County is pleased to introduce Hannah Feldman, a 2022 recipient of one of the three Wynford FFA Rising Sun Scholarship awards.
Hannah, the daughter of Chad Lee Gebhardt and Lee Ann Gebhardt, is a 2022 graduate of Wynford High School. She will be attending Defiance College this fall and studying Business.
What inspired you to choose your intended major?
"I decided at a young age that I wanted to go to college. As many kids do, I threw around a lot of ideas of what I wanted to do and be. Like a lot of little girls, it started with a princess, then a doctor, then a teacher, then a cosmetologist, back to a doctor, then a social worker, and then finally when it was time to really decide, I figured out that cosmetology was the right fit for me. Talking to my parents and job shadowing during my senior year helped me realize that getting my business degree would be extremely beneficial for my long-term dreams. Obtaining my business degree will allow me to open my own salon and also have a back-up plan if I decide cosmetology isn't for me. Living on a farm my whole life also means that I have the option to run the farm. Having a business degree will allow me to improve the financial aspect of the farm and help my family."
What are your career and life goals after you graduate?
"My goal is to attend a four-year college but graduate in three years with a major in business and a minor in entrepreneurship. Then, I want to attend cosmetology school and obtain my license for hair, nails, and esthiology. I want to then work in a salon doing hair, while also working on my family's farm when needed. Eventually, I would like to open my own salon and coffee shop. This would be a one-stop shop for everyone. You could stop in and get coffee or a little food and/or get your beauty services. I feel that attending college will allow me to know more about running a business, how to start a business, and what all it entails. I also know that college allows for people to grow outside of their hometown and truly learn who they are. Being from a little town, you grow up with the same group of people, but there isn't much room to grow if you think about it in a logical way. When you think about jobs, we have grocery stores, fast food restaurants, a few sit-down restaurants, and the little small-town businesses. There aren't very many internships or any way for youth to learn about careers or develop themselves. I know that in college, I will continue to push myself to grow and learn who I am."
Congratulations and good luck in the future, Hannah!
To learn more about the scholarships offered through the Foundation, visit www.cfcrawford.org/scholarships.