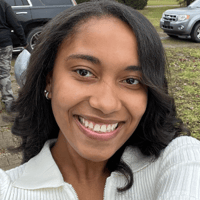 The Community Foundation for Crawford County is pleased to introduce Jaylah Westberry, a 2022 recipient of the Richard E. Stearns Scholarship award.
Jaylah, the daughter of Juan Glen Westberry and Kelly J Westberry, is a 2020 graduate of Wynford High School. She is in her third year of a Bachelor's Degree in Neuroscience at Tiffin University.
What is your favorite aspect of college life?
"Choosing my favorite aspect of college is so hard. I really love it all. I have made connections with so many people that I know are going to last forever. I'm learning more valuable information than I have ever learned. The entire environment from college is so motivating."
What new interest or courses of study have you discovered at college?
"I have found a lot of new interests since being at college. My newest interest is neuroscience. Prior to discovering the neuroscience program, I was a chemistry major. Chemistry is not my strong suit at all, so I have been wanting to change my major for awhile now. I recently got into an accident with my baby cousin who experienced neurological issues. That led me to open my options more and change my major to neuroscience."
In what ways has the college experience changed/improved you?
"The college experience has definitely changed and improved me. College has taught me that I can do anything I put my mind to. I went through a lot of rough times at college, and I never let it affect me. I kept going."
What advice would you give an incoming college freshman?
"Some of your teachers aren't going to care if you miss class because you are wasting your money, not theirs. Going to class may seem optional because no one cares how many days you miss. Go to class."
What is one item on your bucket list?
"One item on my bucket list is to go snorkeling. Snorkeling is on my bucket list because I love swimming, travel, and sea creatures. I think snorkeling can combine three things I love, but don't always get to do."
Congratulations and good luck in the future, Jaylah!
To learn more about the scholarships offered through the Foundation, visit www.cfcrawford.org/scholarships.