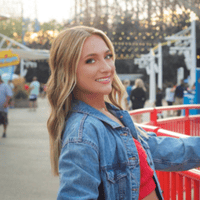 The Community Foundation for Crawford County is pleased to introduce Julia Evak, a 2022 recipient of the Alyssa Pine Memorial Scholarship award.
Julia, the daughter of Brian Evak and Rhonda Evak, is a 2022 graduate of Buckeye Central High School. She is attending Bowling Green State University and studying Early Childhood Education.
What inspired you to choose your intended major?
"There were many reasons why I decided to go into education. It all began growing up with my two sisters. All three of us would play school for hours. At that age, all you use is your imagination. I would dream of becoming a teacher one day all because of how much fun my sisters and I would have together. Also, my mother would come home and share stories about the kids in her class, what she did that day, and even some of the struggles she faced. She has always had such a passion for what she does. She loves to teach. I would say that after watching this all my life, my mother is the biggest influence on why I chose education. After becoming interested in the education field, I helped with Bible School and also Elementary help. I was a helper for a first-grade classroom where I gained experience and got to see what all goes on in a classroom. My love and passion grew even more for education after experiencing this. I knew education was the best fit for me."
What are your career and life goals after you graduate?
"After I graduate, I will be certified to teach both regular education and special education for grades Kindergarten through Fifth grade, and my goal is to obtain a teaching position. I am open to getting a job in Ohio or possibly out of state. After securing a job, I will begin to work on getting a Master's Degree in Education. My life goals include getting married and having children, remaining close to my grandparents, parents, sisters, extended family, and friends."
Congratulations and good luck in the future, Julia!
To learn more about the scholarships offered through the Foundation, visit www.cfcrawford.org/scholarships.