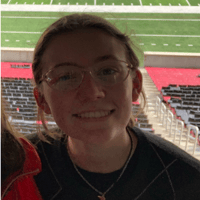 The Community Foundation for Crawford County is pleased to introduce Kaitlin Vaughn, a 2022 recipient of one of the 19 Margaret and Donald Wenner, MD Scholarship awards.
Kaitlin, the daughter of Erik Vaughn and Elaine Whited, is a 2022 graduate of Bucyrus High School. She is attending University of Cincinnati and studying Medical Sciences.
What inspired you to choose your intended major?
"I have always taken an interest in science, specifically forensic science. My Medical Sciences (pre-med) major allows me to further my scientific knowledge as well as provide me with the pre-requisites for my next steps after graduation."
What are your career and life goals after you graduate?
"After I graduate, my goal is to attend an undecided medical school. I will then pursue residency for three years, and apply for a one-year fellowship. It will take 13-14 years for me to be a licensed medical examiner."
Congratulations and good luck in the future, Kaitlin!
To learn more about the scholarships offered through the Foundation, visit www.cfcrawford.org/scholarships.