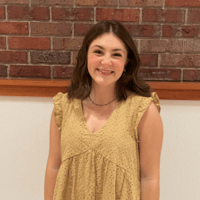 The Community Foundation for Crawford County is pleased to introduce Karmyn, a 2022 recipient of one of the two John W. Brubaker Scholarship awards.
Karmyn, the daughter of Stephen Arthur and Lisa Ann Blizzard, is a 2022 graduate of Bucyrus High School. She will be attending The Ohio State University at Marion this fall and studying Psychology.
What inspired you to choose your intended major?
"I have always been interested in the study of the mind and how it operates. When I was younger, I wanted to become a psychologist, but as I aged, another career caught my attention. After numerous injuries and ample time at my local physical therapy clinic, I came to terms with the fact that I wanted to seek a career in physical therapy, but I was not ready to let go of the idea of studying psychology in the future. This prompted me to do some research, and I found that a physical therapy degree can arise from any given major. Therefore, I was able to combine my interest towards psychology with my aspiration to become a PT by creating a career path in which I will receive my undergraduate degree in psychology, and then go on to graduate school to receive my Doctorate of Physical Therapy degree."
What are your career and life goals after you graduate?
"I plan to attend The Ohio State University at Marion in the fall of 2022 to receive my undergraduate degree in Psychology. Following this degree, I plan to apply to Ohio State's three-year Doctorate of Physical Therapy program. With this qualification, I hope to land myself a job at Mohican Sports Medicine in my hometown, Bucyrus. Aside from my career goals, I hope to become a mother one day, and also have a boxer puppy."
Congratulations and good luck in the future, Karmyn!
To learn more about the scholarships offered through the Foundation, visit www.cfcrawford.org/scholarships.