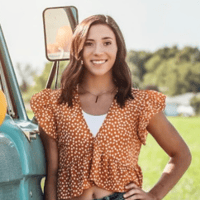 The Community Foundation for Crawford County is pleased to introduce Katie Ruffener, a 2022 recipient of one of the seven L. Earl Smith Scholarship Fund awards.
Katie, the daughter of Brad Ruffener and Mary Ruffener, is a 2022 graduate of Colonel Crawford High School. She will be attending Iowa State University this fall and studying Agricultural Business.
What inspired you to choose your intended major?
"I decided to choose Agricultural Business as my intended major because I come from a small community where farming makes up most of the community. I live on a small family farm, and I want to be able to come back and give to the small community. Farming is a large part of the population where I am from, and I want to make a difference in the agricultural world."
What are your career and life goals after you graduate?
"My career goals are to complete my four years at Iowa State University. In my senior year at Iowa State, I hope to get an internship with some type of corporation of any kind to get experience. Then, I want to come home and take over more of the family farm and help that grow."
Congratulations and good luck in the future, Katie!
To learn more about the scholarships offered through the Foundation, visit www.cfcrawford.org/scholarships.