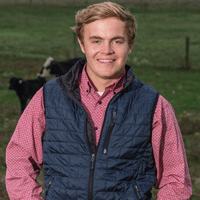 The Community Foundation for Crawford County is pleased to introduce Levi Hartschuh, a 2022 recipient of one of the seven L. Earl Smith Scholarship Fund awards.
Levi, the son of David Hartschuh and Leah Hartschuh, is a 2021 graduate of Wynford High School. He is in his second year of a Bachelor's Degree in Agricultural Education and Ag Business at Wilmington College.
What is your favorite aspect of college life?
"In college, I would say that one of my favorite parts are the lifelong connections that you make with professors, but more importantly, your friends. While college is truly all about you learning and attaining a degree, it is nice to have the support of your peers and college staff along the way."
What new interest or courses of study have you discovered at college?
"During my time in college, I have found that I have a strong interest in Athletic Administration. During my freshman year, I took on a position at the college under the athletic department where I served as the student athletic administrator. I truly enjoyed this line of work. I got to meet the officials prior to the events, plan out the event items to have a smooth game, and also plan the travel arrangements for all of the sports teams."
In what ways has the college experience changed/improved you?
"Through my time in college, I have been able to find it easier to make new friends and learn to communicate stronger with others. I have been able to learn how I can speak in large settings and be fluent and relaxed while I am speaking to large groups. In terms of making friends, I have been able to make LOTS of them because I just start talking to everyone, and before you know it, I have all sorts of people wanting to hang out more often."
What advice would you give an incoming college freshman?
"Be thankful for where you are in your life today. Many kids around the county, state, and country are not able to attend college or even graduate high school. Too often in our lives today, we as teenagers take many things for granted and have the idea that we are owed something in our life, when we really need to take a step back and look at all of the things we have in our lives. We need to look back on our life and thank the people who have helped us get where we are today and who have built us into the people we are today. The sad thing is that there is a teen somewhere who would do anything for the support that we have earned."
What is one item on your bucket list?
"One item on my bucket list is to go swimming in the Great Barrier Reef. I would love to see all of the wildlife in the ocean and how they live in every crevice of our great planet. I have always had a fascination with the ocean and would love to see all of the fish and odd creatures living in the coral reef."
Congratulations and good luck in the future, Levi!
To learn more about the scholarships offered through the Foundation, visit www.cfcrawford.org/scholarships.