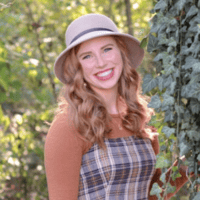 The Community Foundation for Crawford County is pleased to introduce Madalyn Johnson, a 2022 recipient of one of the two Kiwanis Kahle-Wenner Scholarship awards and one of the two Marvis Schaaf Scholarship awards.
Madalyn, the daughter of Matthew Carrol Johnson and Mellissa Kristian Johnson, is a 2022 graduate of Wynford High School. She is attending West Liberty University and studying Human Biology.
What inspired you to choose your intended major?

"I have known from a young age that I've wanted to work with young kids. I volunteered at the elementary school as an aid for the first grade and kindergarten classes. I also helped with athletic camps for the younger kids. I absolutely loved it and knew this was something I wanted to pursue. Another way I was inspired by my career choice was my grandpa (Michael Johnson), my uncle (Chris Johnson), and my brother (MacKenton Johnson). They all have big careers in the medical field, and I love the connections that my uncle and grandpa have with this community. I would love to have that connection with others when I grow up. My brother has experienced so many great opportunities and has gotten to travel to different places, and I would love to take part in such journeys."
What are your career and life goals after you graduate?
"After graduating, I want to work as a physician's assistant at a pediatric hospital. I want to give back to my community by working to inspire young girls to go into science fields."
Congratulations and good luck in the future, Madalyn!
To learn more about the scholarships offered through the Foundation, visit www.cfcrawford.org/scholarships.