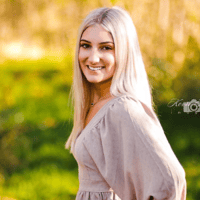 The Community Foundation for Crawford County is pleased to introduce Makenna Zaebst, the 2022 recipient of the Holmes Liberty Alumni Scholarship.
Makenna, the daughter of Scott Richard Zaebst and Joyce Elaine Zaebst, is a 2022 graduate of Wynford High School. She is attending North Central State College this fall and studying Registered Nursing.
What inspired you to choose your intended major?
"One factor that inspired me to choose my intended major was the pandemic. Watching people struggle throughout this country was hard, and someone must be a caretaker to our citizens. I find joy in helping others and making them feel good."
What are your career and life goals after you graduate?
"After I graduate, I plan to find a registered nursing job. I would enjoy working at Nationwide Children's or OSU Wexner Medical Center. I would like to specialize in Labor and Delivery, Cosmetic, NICU, or PICU nursing."
Congratulations and good luck in the future, Makenna!
To learn more about the scholarships offered through the Foundation, visit www.cfcrawford.org/scholarships.