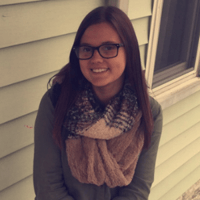 The Community Foundation for Crawford County is pleased to introduce Marissa Eulett, a 2022 recipient of one of the 19 Margaret and Donald Wenner, MD Scholarship awards.
Marissa, the daughter of Anthony Wayne Eulett and Janell Monique Capone, is a 2022 graduate of Bucyrus High School. She is attending North Central State College and studying Mortuary Science.
What inspired you to choose your intended major?
"Growing up, I have always been interested in science, and I have always wanted to do something in the medical field. Becoming an RN was my first desired career, but after going to my mom's funeral, it changed my mind. I'm not sure why, but the funeral industry sparked an interest in me. I did a lot of research on the job, and I was interested in everything I found, so I knew that this is what I wanted to do."
What are your career and life goals after you graduate?
"After I graduate, I plan to find a job as an embalmer as fast as I can. That way, I can start saving money to build my own house and succeed."
Congratulations and good luck in the future, Marissa!
To learn more about the scholarships offered through the Foundation, visit www.cfcrawford.org/scholarships.