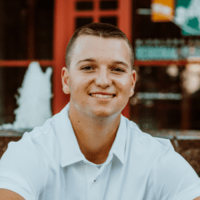 The Community Foundation for Crawford County is pleased to introduce Nolan McKibben, a 2022 recipient of one of the four Crawford County Sports Hall of Fame Scholarship awards, one of the two Dustin T. Stover Scholarship awards, and the Noah Skylar Lear Scholarship award.
Nolan, the son of Bradley and Krista McKibben, is a 2022 graduate of Colonel Crawford High School. He will be attending The University of Alabama this fall and studying Microbiology and Nutrition.
What inspired you to choose your intended major?
"I chose my specific major because I thoroughly enjoyed taking my microbiology class in my Sci-Med CollegeNow program at NC State. I loved learning everything about how viruses and bacteria live and grow. I also enjoyed learning about epidemiology both in that course and throughout the COVID-19 pandemic. So, I figured why not learn more about it the next four years during my undergraduate education."
What are your career and life goals after you graduate?
"After I graduate with my undergraduate degree, I plan to attend medical school to become a physician. I hope to one day return to Crawford County and provide medical care for the amazing people in our community."
Congratulations and good luck in the future, Nolan!
To learn more about the scholarships offered through the Foundation, visit www.cfcrawford.org/scholarships.