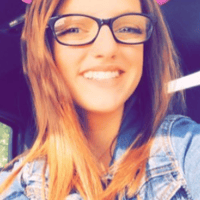 The Community Foundation for Crawford County is pleased to introduce Sheena Parsons, a 2022 scholarship recipient of one of the seven Arlene H. Smith Scholarship awards, one of the 19 Doug and Renee Leuthold Scholarship awards, and one of the two Dr. Joseph and Susan Shadeed Scholarship awards.
Sheena, the daughter of Larry Parsons and Stacy Parsons, is a 2022 graduate of Colonel Crawford High School. She will be attending North Central State College this fall and studying Nursing.
What inspired you to choose your intended major?
"When my grandpa got diagnosed with cancer, I would go to the hospital with him and watch the nurses. Seeing how they do their job and how much adrenaline it gives people made me really want to do it. I have always been one to want to help people, and being a nurse can help me be able to take care of people and help people move on and have a normal life."
What are your career and life goals after you graduate?
"I want to work as a registered nurse in an ER for a few years and possibly go back to school to be a registered nurse. I eventually would like to get married and have children to raise."
Congratulations and good luck in the future, Sheena!
To learn more about the scholarships offered through the Foundation, visit www.cfcrawford.org/scholarships.