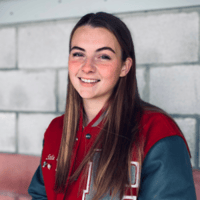 The Community Foundation for Crawford County is pleased to introduce Stella Betts, a 2022 recipient of one of the four Crawford County Sports Hall of Fame Scholarship awards.
Stella, the daughter of Jacob Betts and Amy Betts, is a 2022 graduate of Buckeye Central High School. She is attending Purdue University and studying Nuclear Engineering.
What inspired you to choose your intended major?
"While researching a different career, I found I had a passion for nuclear energy. Nuclear energy is extremely interesting to me in all aspects, and I'm looking forward to working in the industry."
What are your career and life goals after you graduate?
"I plan to work either for the government or at a nuclear power plant. With my intended degree, I could work in multiple different positions."
Congratulations and good luck in the future, Stella!
To learn more about the scholarships offered through the Foundation, visit www.cfcrawford.org/scholarships.