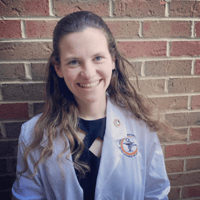 The Community Foundation for Crawford County is pleased to introduce Taylor Niese, a 2022 recipient of one of the 19 Doug and Renee Leuthold Scholarship awards and one of the 19 Margaret and Donald Wenner, MD Scholarship awards.
Taylor, the daughter of Dan Niese and Sheila Sobers, and stepdaughter of Jenny Niese and Erik Sobers, is a 2018 graduate of Buckeye Central High School. She is in her fifth year of a doctorate program in Pharmacy and Spanish at Ohio Northern University.
What is your favorite aspect of college life?
"My favorite aspect of college life is having the opportunity to be independent while still having my family close."
What new interest or courses of study have you discovered at college?
"After my first year of college, I decided to pursue a Bachelor's Degree in Spanish on top of my PharmD. While interning with RiteAid, I was able to see how easily language barriers could impact a person's healthcare. Because of my choice to continue my Spanish education, I have already been able to help patients who otherwise would have not received optimum care."
In what ways has the college experience changed/improved you?
"College has significantly helped me grow as a person. I've experienced living in a tiny dorm room, staying up too late because I procrastinated on a project, trying to do online classwork with a broken laptop, and attempting to fix a car problem when my dad is an hour away. None of these things are horrible, but the moral of the story is: you're going to be in situations that are not ideal, and when you are, you have to adjust and do what you can to make it work."
What advice would you give an incoming college freshman?
"My advice to incoming college freshmen is to get involved on campus and meet new people, but also take some time for yourself. I go to the gym every day during the school week because it gives me time away from classes and studying."
What is one item on your bucket list?
"My bucket list is quite generic, but I'd like to travel as much as I can. Every place is unique in its own way, and I have a hard time picking just a singular place that I want to see."
Congratulations and good luck in the future, Taylor!
To learn more about the scholarships offered through the Foundation, visit www.cfcrawford.org/scholarships.