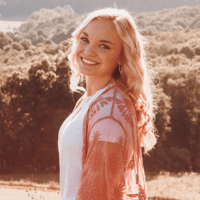 The Community Foundation for Crawford County is pleased to introduce Taylor Ratliff, a 2022 recipient of one of the 10 Glen and Alice Beers Scholarship awards.
Taylor, the daughter of Jason Richard Ratliff and Dawn Suzanne Ratliff, is a 2021 graduate of Buckeye Central High School. She is in her second year of a Master's Degree in Psychology at Heidelberg University.
What is your favorite aspect of college life?
"College life is beautiful and exciting to me in many ways. I love people, so getting to create relationships with so many people from all different places with different backgrounds is easily my favorite thing about college. College life has also allowed me to grow immensely as a person with learning how to live more on my own."
What new interest or courses of study have you discovered at college?
"Throughout my first year of college I was able to discover how much I enjoy learning about mental health as well as nutrition. I had several different courses that were able to feed both of these interests, and I absolutely loved them."
In what ways has the college experience changed/improved you?
"One of the biggest ways the college experience has improved my life is by teaching me everyday that it is so important to truly listen to others, while also staying true to yourself. College has allowed me to grow in faith, character, responsibility, and respect for both others and for myself."
What advice would you give an incoming college freshman?
"I would easily tell an incoming college freshman to remember to give yourself grace. Everything you have known for the past 18 years changes once you hit campus. College is full of amazing moments, but it also has rough patches. When you are going through so much change, it is important to give yourself patience and grace to help you get through the ride."
What is one item on your bucket list?
"One item on my bucket list is to go to a hot air balloon festival and ride in one of them. I love looking out at God's amazing creation, and I think riding in a hot air balloon with many others in the sky would be such a beautiful memory."
Congratulations and good luck in the future, Taylor!
To learn more about the scholarships offered through the Foundation, visit www.cfcrawford.org/scholarships.