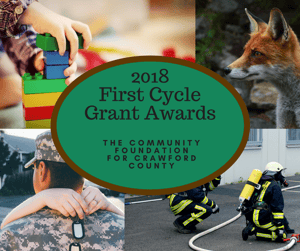 The Community Foundation for Crawford County recently awarded over $227,500 in competitive grants to local charitable organizations and schools.
Community grants went to the following:
• Acres of Adventure, Inc. - $10,000 towards a Crawford County water quality learning area
• Ronald McDonald House Charities of Central Ohio - $5,000 towards overnight stays for Crawford County families with ill children
• American Red Cross of North Central Ohio - $5,100 to support home fire relief and disaster victims in Crawford County
• Bucyrus Area YMCA - $9,800 to use for Phase 1 of a renovation project for childcare space
• New Washington Fire Department- $7,690 to purchase four new sets of firefighter turnout gear
• Team Focus, Inc. - $6,160 for allowing14 Crawford County fatherless boys to attend summer camp
• Galion Golden Age Club, Inc. - $2,500 towards the purchase of an outdoor storage shed intended to eventually house a mower and snow blower
• Kingwood Center Gardens - $1,000 towards the Garden Gateway Visitor Center
• Galion Community Theatre - $8,000 towards upgrading the marquee
• Wildlife Haven - $5,000 towards animal food and intern scholarships
• Bucyrus City Schools – $8,500 towards new drapes for the Bucyrus Elementary School auditorium
• Galion Historical Society - $1,040 towards the purchase of brackets to hang street banners honoring local veterans
• Bucyrus Scouts, Inc./Camp Michael - $7,983 to level and repair the floor of Tschannen Lodge
• Crawford County Education and Economic Development Partnership - $50,000 towards a five-year grant supporting efforts to enhance the livelihood of Crawford County families and businesses
• Crawford Works - $20,000 towards a three-year grant supporting an employment model connecting employers with job seekers
• Crawford County Community Concert Association - $5000 towards a three-year grant providing funding to help book higher profile artists for community concerts
In addition, thanks to a bequest gift from the Dorothy Leuthold estate, North Central State College Foundation was granted $75,000 for implementing a Licensed Practical Nurse (LPN) program at the Crawford Success Center in Bucyrus.
The next grant cycle deadline for is April 30, 2018 with grants to be awarded in May.
Established in 1984 with the generous help of the Timken Foundation, The Community Foundation for Crawford County works to enhance the quality of life for all Crawford County residents.