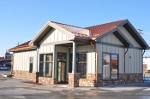 The Bucyrus Area Community Foundation held its Annual Meeting at the Bucyrus Public Library on Thursday, October 4, 2012. Several community members also took advantage of the opportunity to visit the Foundation for a tour of the facility.
The meeting featured an update of all the recent activity at the BACF, highlighting the philanthropic achievements in the community through a presentation of photographs showing all the area organizations that benefit from the support of the BACF.
Lisa Cook, Early Childhood Coordinator for Succeed and Prosper through Education Ashland, Richland, Crawford Counties (SPARC), was the featured speaker of the evening. Ms. Cook's presentation focused on the exciting early childhood initiatives taking place in Crawford County. She emphasized the positive direction in curriculum development that is occurring in our schools.
Ms. Cook discussed the success of networking last year with area early childhood care providers; helping them understand the importance of exposing children as young as infants to enriching experiences and opportunities, stressing the incredible impact parents and care providers can have on children.
One of the goals this year will be to network those providers with area kindergarten teachers to ensure that children are well-prepared when they do enter the education system.
To see more pictures, visit our Facebook page!