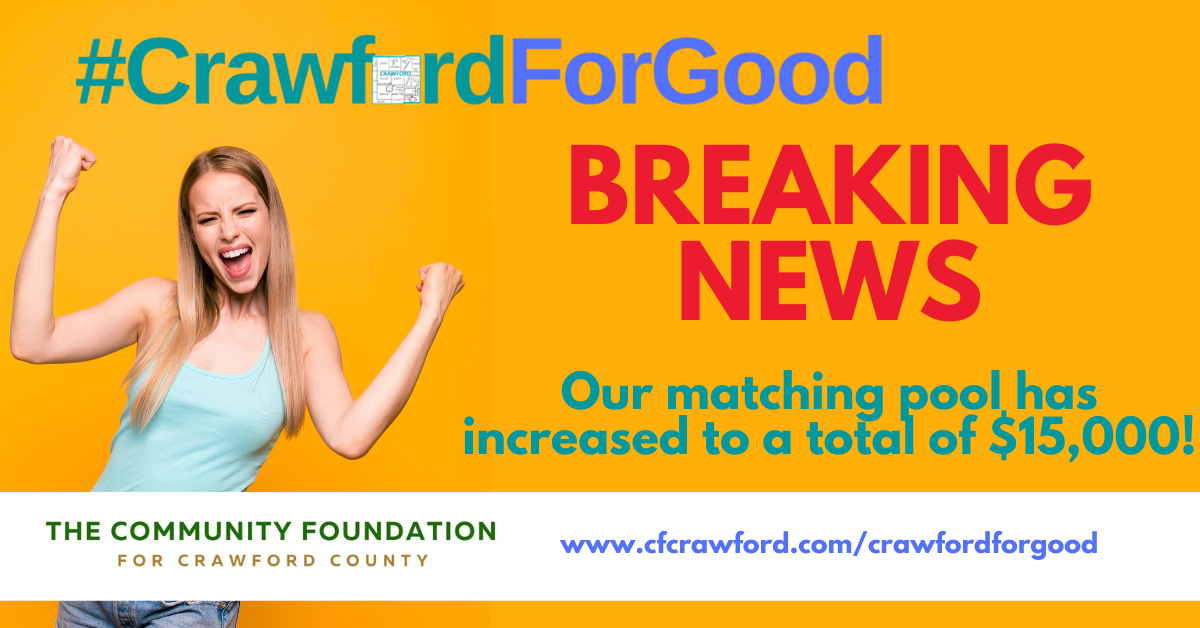 Hot off the press! The Community Foundation for Crawford County just received a call from a donor who wishes to remain anonymous and who is sending us $5,000 to add to the pro-rated matching pool being distributed through this week's #CrawfordForGood fundraiser! That makes the pro-rated matching pool a total of $15,000!
They had been reading about our fundraiser for area non-profits in local media and thought it would be nice to sweeten the pot a little for those participating! "If you want to love your town, act like someone who loves your town would act." – Melody Warnick. I'd say this Anonymous Donor loves their community and just made us love it more, too!
Don't forget! You can still make a donation to one of our participating nonprofits at https://cfcrawford.networkforgood.com. Make sure to list your selected nonprofit in the donor scroll!
Registered nonprofits you can support:
Boy Scout Troop 304

Broken Arrow, Inc.

Bucyrus Backpack Program, LLC

Crawford County Ag Society/Crawford County Fair

Crawford County Arts Council

Crawford County Council on Aging, Inc.

Crawford County Society for Aiding the Physically Disabled

Crawford Reads 20

Crawford Works

Crestline Child Care, Inc.

Crestline Community Enhancement Fund of Projects, Inc.

Crestline Historical Society

Crestline Youth Sports Fund of Projects, Inc.

Galion Community Theatre

Galion Golden Age Center

Galion Gridiron Club, Inc.

The Galion History Center

Ignite 365 Outreach Programs

New Washington Veterans Memorial Park Fund of Projects, Inc.

Preserving Galion, Inc.

Rescued Rollers

RSVP of Crawford County

The Salvation Army of Crawford County

St. John's UCC Feed the Hungry Soup Kitchen

St. Joseph Community Outreach Program

Team Focus, Inc.

United Way of North Central Ohio, Inc. (serves Crawford County)


YMCA of Bucyrus-Tiffin, Inc. (Bucyrus Branch)