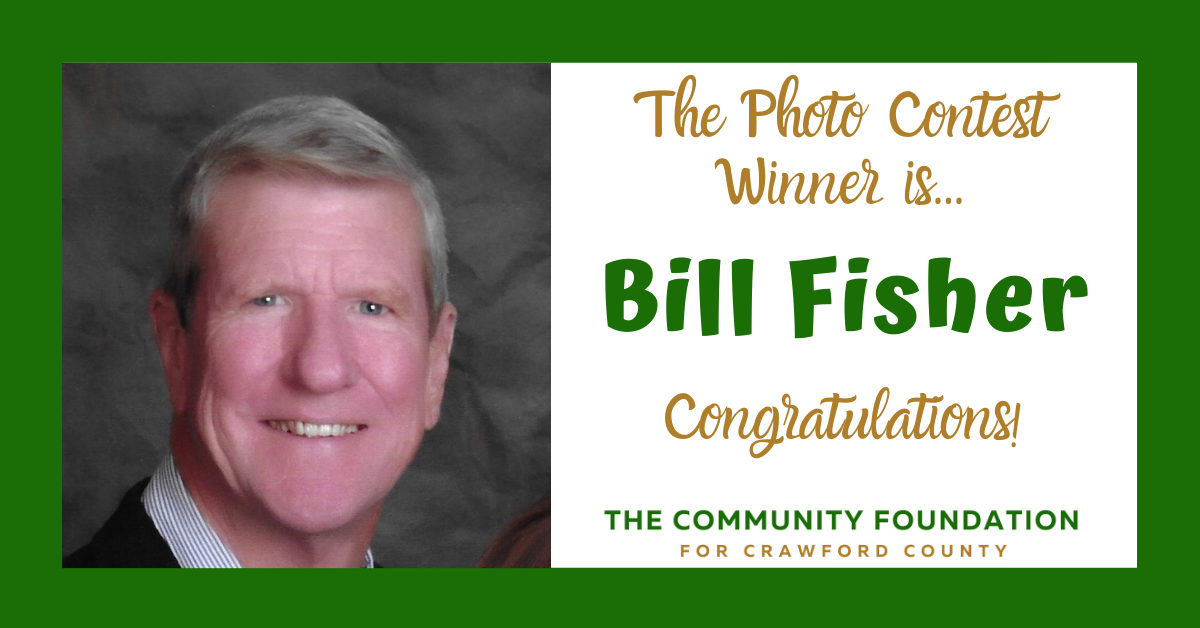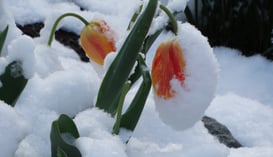 The Community Foundation for Crawford County is proud to announce the winner of our annual calendar photo contest: Bill Fisher. In July, the Foundation asked Crawford County residents to submit photos they took from around the county for consideration in our 2020 gratitude report/2022 calendar. Bill, a lifelong resident of Crawford County, submitted a picture (shown here) of tulips in his backyard after being covered in snow in late April which is featured on April in the calendar.
Bill (pictured above) was born and raised in Crestline and graduated from Crestline High School in 1967. After high school, he continued his education at Miami University earning a Bachelor of Science in Education and received his Master of Education from Bowling Green University. All his Master degree classes were held in Crawford County except two with the professors traveling rather than the students. Bill recalls, "Two of my most memorable continuing education classes were taking a Human Anatomy class at the University of Toledo College of Medicine and a Science Discovery Series at Ohio State."
In 1970, Bill married his wife of 51 years, Donna, whom he met in high school. He and Donna have three children, Jeff, Kelly, and Bethany, and five grandchildren, Austin, Avery, Kelsie, Lucas, and NJ. Bill is currently retired. He taught High School Biology and Human Anatomy at Bucyrus City Schools for 35 years and was the Director of the Crawford Park District for 12 years.
Although Bill is not a professional photographer, he started taking photos when digital photography became popular and has had a couple of his photos published in the Crestline Advocate, the Heart of Ohio Magazine, and a recently released book titled, Reptiles of Ohio. Nature became the central subject of most of his photography when he began his position at the Crawford Park District in 2006. As a self-professed "nature nerd," Bill takes photos of plants, animals, fungi, sunrises and sunsets, barns, and definitely flowers. "Of the thousands of photos I have taken," states Bill, "I have taken more single topic pics of Hepatica blooms at Heckert Park than anything else. I'm OCD about hiking there in the spring to capture the varying colors of Hepatica. The deeper the blue, the better."
Despite loving nature, Bill says the most rewarding photographs he takes are of his family. "Our oldest grandson recently asked me if I could send him some photos of him with his Dad," recalled Bill. "He wanted to create a birthday card for him. That was an easy assignment since I have photos of them together from his birth to recently. He was surprised and happy that I sent him a few that he had never seen before."
In his spare time not taking photos, Bill is on the Board of Directors of Peoples Savings and Loan in Bucyrus as well as on the Board of the Crestline Historical Society. When not spending time outdoors and landscape gardening in his yard, he can be found researching local history. "When my third Great Grandmother, Mary Roberts, was 20 years old and living in Maryland, she purchased 160 acres from the US Government," recounts Bill. "That was in 1818, and she paid $2 an acre. Although the land was originally within Richland County, currently the land is in Crawford. Mary married Allen Talbott in 1819, and they eventually settled on her land in 1827. The land is on Middletown Road and is part of the Floyd Cox farm south of Crestline. The Cemetery on Middletown Road is called the Talbott Cemetery." As demonstrated Bill's family roots run deep in Crawford County.
When asked "If you could go anywhere in the world to take photographs, where would you go and why?" Bill answered, "The Galapagos Islands. Nature nerd time again!"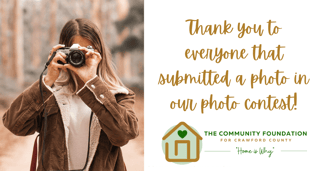 As the contest winner Bill will a $25 gift certificate to a Crawford County restaurant, Mi Cerrito of Crestline!
Once again, congratulations and keep taking those beautiful photos, Bill!
Our annual photo contest begins in the middle of June and ends the last day of the month in July each year. Crawford County photographers, both amateur and professional, are encouraged to submit their photos.
Those wishing to view the Foundation's 2020 Gratitude Report & 2022 Crawford County Calendar may do so by clicking here.