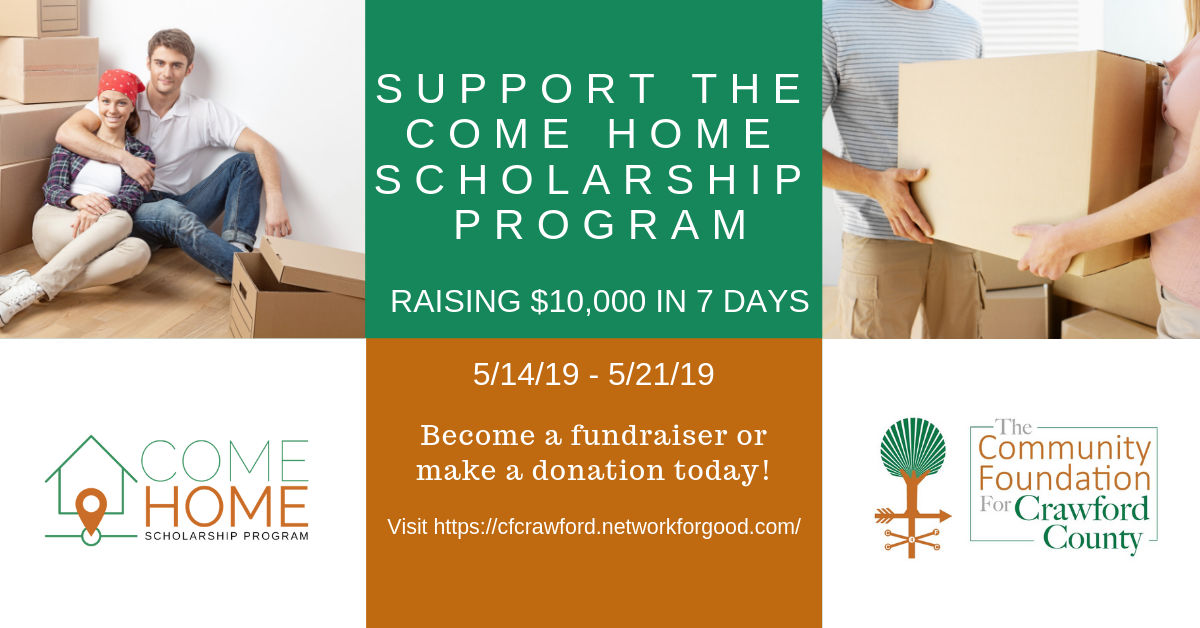 The Community Foundation for Crawford County announces the launch of their spring fundraising campaign to support the Come Home Scholarship Program. The Foundation is asking their supporters to become a fundraiser or give a donation today by visiting https://cfcrawford.networkforgood.com/. Their online campaign will run for one week from Tuesday, May 14, 2019 to Tuesday, May 21, 2019 with a goal of $10,000.
The Come Home Scholarship Program is designed to attract former Crawford Countians who have completed a certificate program or college degree in the last 7 years to apply for a Come Home Scholarship of up to $10,000 towards student debt in return for coming back to Crawford County to live and work. Getting our best and brightest to move back home not only adds to our county's declining population, but also increases our level of educational attainment, boosts our economy, and increases our tax base. We are supporting education and strategically focusing on economic development and talent retention, reversing the brain drain.
With the program's launch in 2017, the Foundation became the 1st in Ohio and the 4th in the nation to offer this unique program. "So far these gifts have helped four former Crawford Countians move back home, and this fundraiser could entice a fifth "homecomer," said Foundation President, Lisa Workman. "Increasing our county's population is imperative to our county's future success, and this is another means to help that happen."
To see more details about the Come Home Scholarship Program, please visit our website at https://www.cfcrawford.org/come-home-scholarship.