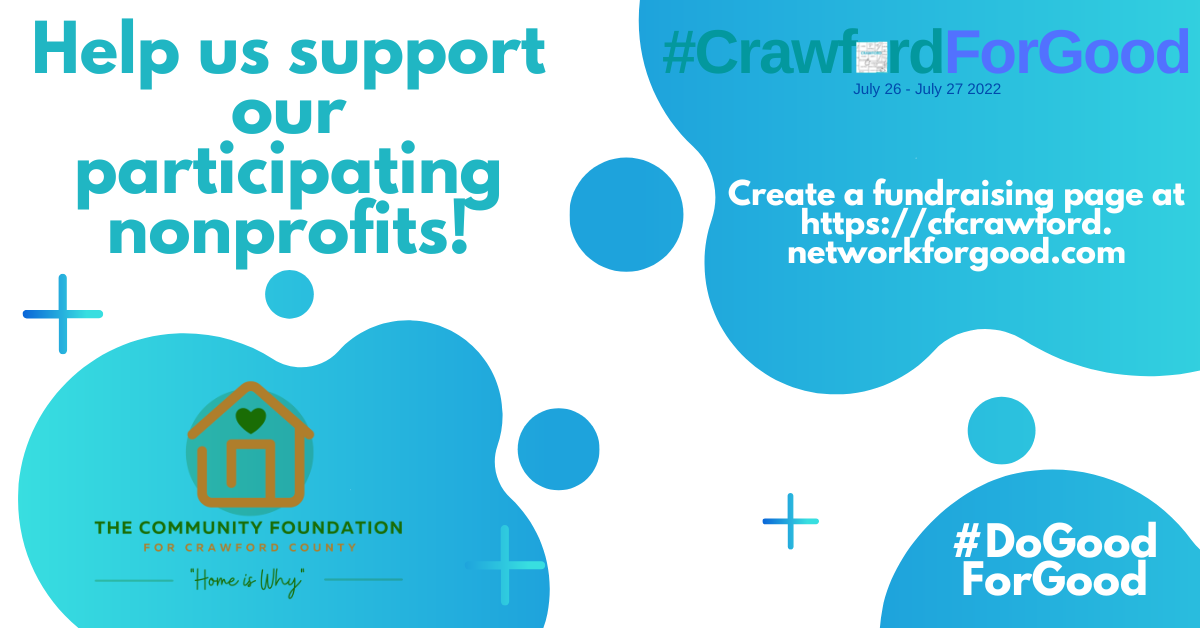 The final list of participating nonprofits for #CrawfordForGood is complete.
#CRAWFORDFORGOOD PARTICIPATING NONPROFITS:
Boy Scout Troop 304
Broken Arrow, Inc.
Bucyrus Backpack Program, LLC
Crawford County Ag Society/Crawford County Fair
Crawford County Arts Council
Crawford County Council on Aging, Inc.
Crawford County Society for Aiding the Physically Disabled
Crawford Reads 20
Crawford Works
Crestline Child Care, Inc.
Crestline Community Enhancement Fund of Projects, Inc.
Crestline Historical Society
Crestline Youth Sports Fund of Projects, Inc.
Galion Community Theatre
Galion Golden Age Center
Galion Gridiron Club, Inc.
Ignite 365 Outreach, LLC
New Washington Veterans Memorial Park Fund of Projects, Inc.
Preserving Galion, Inc.
Rescued Rollers
RSVP of Crawford County
St. John's United Church of Christ
St. Joseph Community Outreach Program
Team Focus, Inc.
The Galion History Center
The Salvation Army of Crawford County
United Way of North Central Ohio, Inc.
YMCA of Bucyrus-Tiffin, Inc.
All of the above listed Crawford County nonprofits need your help and support. Each one has partnered with the Foundation to participate in #CrawfordForGood, a 2-day online giving event with the goal of getting these nonprofits operating funds to support their for good missions. The event starts tomorrow, Tuesday, July 26th at 8am and continues through 8pm on Wednesday, July 27th, and will take place exclusively on our Network For Good platform website, https://cfcrawford.networkforgood.com.
What can you do to help? That's easy. Choose to become a fundraiser for one of our participating nonprofits OR give during the event.
Choose one of the nonprofits above and become a fundraiser on their behalf. Build your own page to advocate and fundraise for your chosen nonprofit. It's fast, fun, and easy! Then share your page via social media, text, and email on July 26th to ask your friends and family to start giving. To become a fundraiser go to https://cfcrawford.networkforgood.com.
Give during our event to the participating nonprofit(s) you love. Choose to donate $10 instead of buying that t-shirt you saw while you were bored and surfing the internet. No amount is too small, and nonprofits will greatly appreciate any amount you can put towards their for good missions.
The Foundation is matching donations raised online during the event on a pro-rated basis from a pool of $10,000 being offered by our Board of Trustees, Park National Bank, and Wurm's Woodworking Company. The Foundation will not be keeping any of the money raised – it is all going back out directly into the hands of the nonprofits that raise it.
We are standing in support of Crawford County nonprofits who fight for good every day. They give so much to our community – let's make sure they are here for good, forever.
#DoGoodForGood