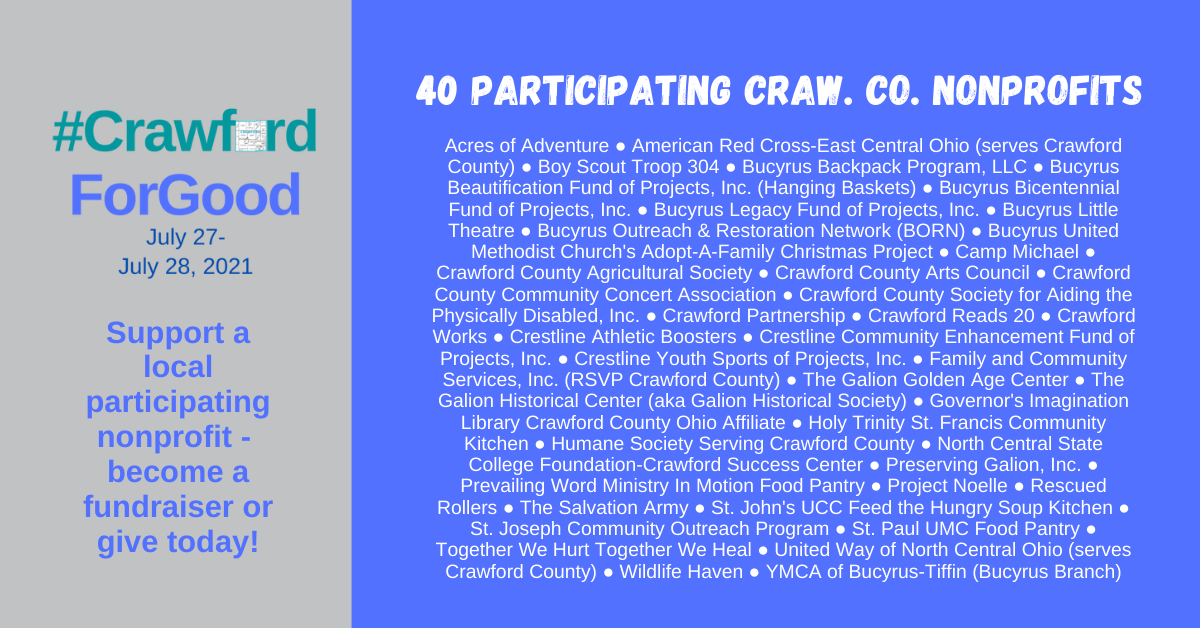 All 40 of these #CrawfordForGood participating nonprofits need your help.
How can you help?
GIVE NOW

.

Choose to donate $10 instead of buying that t-shirt you saw while you were bored and surfing the internet. No matter how small, every donation helps - every donation makes a difference. Your donation during our event generates another donation from the Foundation. How does this work? The Foundation is matching donations raised online during the event on a pro-rated basis from a pool of $20,000 being offered by our Board of Trustees, the Hord Family Donor Advised Fund, the Carter Family Donor Advised Fund, and the Doug and Renee Leuthold Donor Advised Fund of National Philanthropic Trust.

The Foundation will not be keeping any of the money raised – it is all going back out directly into the hands of the nonprofits that raise it.

If you are unable make a gift, consider becoming a fundraiser.
BECOME A FUNDRAISER.

Build your own fundraising page to advocate and fundraise on behalf of your favorite participating Crawford County nonprofit. It takes less than 5 minutes and is quick and easy to create a page. We even have a short step-by-step video that breaks the process down for those wishing to create their own pages.
To view this video, start your fundraising page or to give, go to https://cfrawford.networkforgood.com.
#DoGoodForGood