The Community Foundation for Crawford County and the Crawford Success Center of North Central State College (NCSC) recently collaborated on an evening to celebrate education and student achievement. Opening comments were made by Lisa Workman, President of the Foundation, Dr. Dorey Diab, President of NCSC, and Amanda Sheets, Operations Manager of the Crawford Success Center to a crowd of about 70 who gathered last Thursday evening at the Crawford Success Center. Attendees learned that the educational attainment level in Crawford County has increased by 2% in the last three years, and that many scholarships that are available are no longer just for graduating high school seniors.
Throughout the evening, scholarship recipients and those who donated to start scholarships had the opportunity to meet each other, express gratitude, and share stories. Even some former scholarship recipients who could not attend the event still contributed to the night's activities. Haley (Kocher) Fannin, a 2016 winner of the Samuel Neff Fellowship for International Study Scholarship, sent a power point presentation from her study abroad trip to Brazil.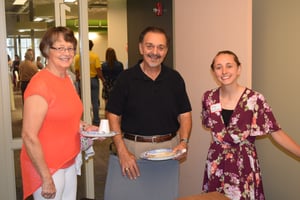 Dr. Joe and Sue Shadeed chat with Amy Rietschlin. A 2016 winner of the Samuel Neff Fellowship for International Study Scholarship, Amy shared her experience studying abroad in Italy. A recent college graduate, Amy will be working this fall at Buckeye Central Local Schools teaching Algebra I, Algebra II and pre-calculus to high school students.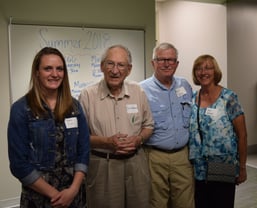 Sydney Studer meets scholarship donors Dr. Donald Wenner and Bill and Nan Kahle. This year, Sydney was awarded the Kiwanis Kahle-Wenner Scholarship, the Rollie and Esther Wilson Scholarship, and was one of five recipients of the Crawford County Sports Hall of Fame Scholarship. Sydney plans to study pharmacy at the University of Findlay this fall.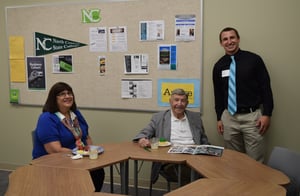 Chris Copper, Executive Director of the NCSC Foundation, talks with Vic Smith (a Foundation and college donor), and Adam Paynter. Adam was one of five to receive the Kenneth Cummins Scholarship and one of 19 to receive the Margaret and Donald Wenner, MD Scholarship. A 2012 graduate of Buckeye Central Local Schools, Adam is currently attending Ohio University and pursuing a doctoral degree in physical therapy.