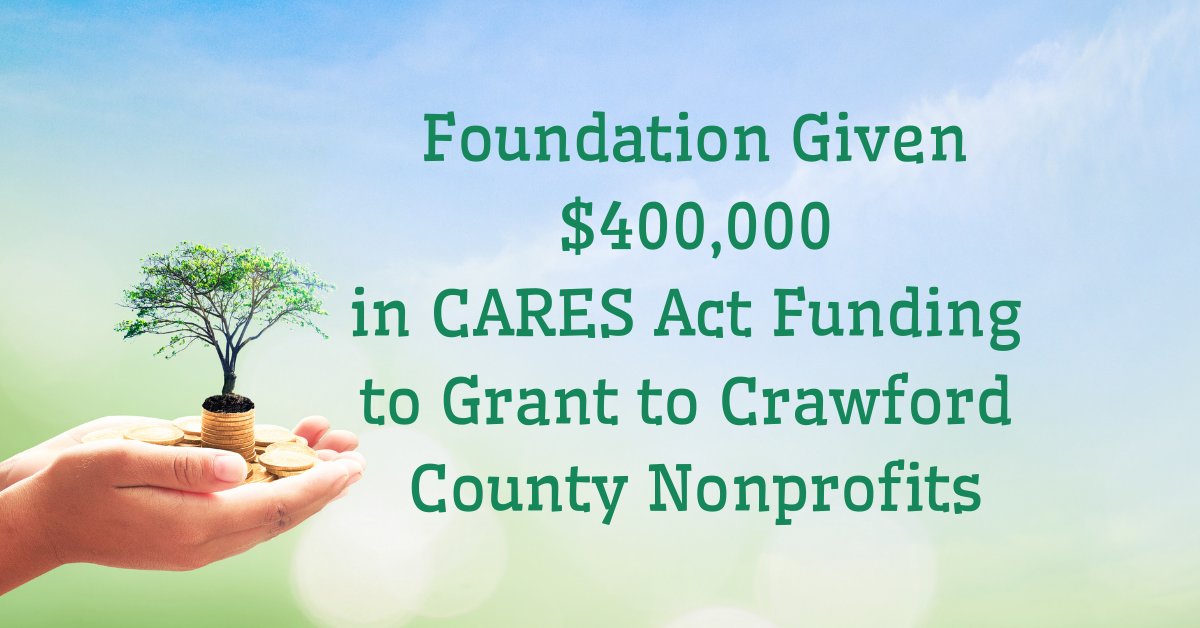 The Community Foundation for Crawford County has received $400,000 in Coronavirus Aid, Relief, and Economic Security (CARES) Act funding from the Crawford County Commissioners to distribute in the form of grants to local nonprofits negatively impacted by the coronavirus pandemic. The Commissioners had some monies left over after paying for initial pandemic expenses and so passed on these monies to the Foundation. They also gave funds to the Bucyrus Area Chamber of Commerce and the Galion-Crestline Chamber of Commerce for their distribution to affected area businesses.
To be eligible, a nonprofit must operate as a 501(c)3 organization and have done so since one year before March 1, 2020; be located within Crawford County and/or have a Crawford County address; not be permanently closed; not be in receivership or bankruptcy; and demonstrate need because of increased expenses or decrease in revenues resulting from COVID-19.
"This is a great example of the community pulling together to collaborate and share resources during a crisis," said Lisa Workman, Foundation President. "And not just locally – other Ohio foundations and chambers generously shared documents and guidelines and showed that we really are in this together."
The full set of program guidelines can be found at the Foundation's website here. Applicants are encouraged to fully read the guidelines before completing an application, as the application is more detailed and requires additional documentation compared to the Foundation's traditional grant application. "Because of this quick turn around and needing to distribute the grants before year's end, the Foundation will not be able to contact individual applicants regarding incomplete information," Workman added.
Applications become available at the Foundation's website on Monday, December 7 at 9:00 am, and will close out at 11:59 pm on Thursday, December 17, 2020. Awardees will be notified the week of December 21, and all grants will be distributed by December 31, 2020. For more information and/or questions, visit https://www.cfcrawford.org/grantseekers.