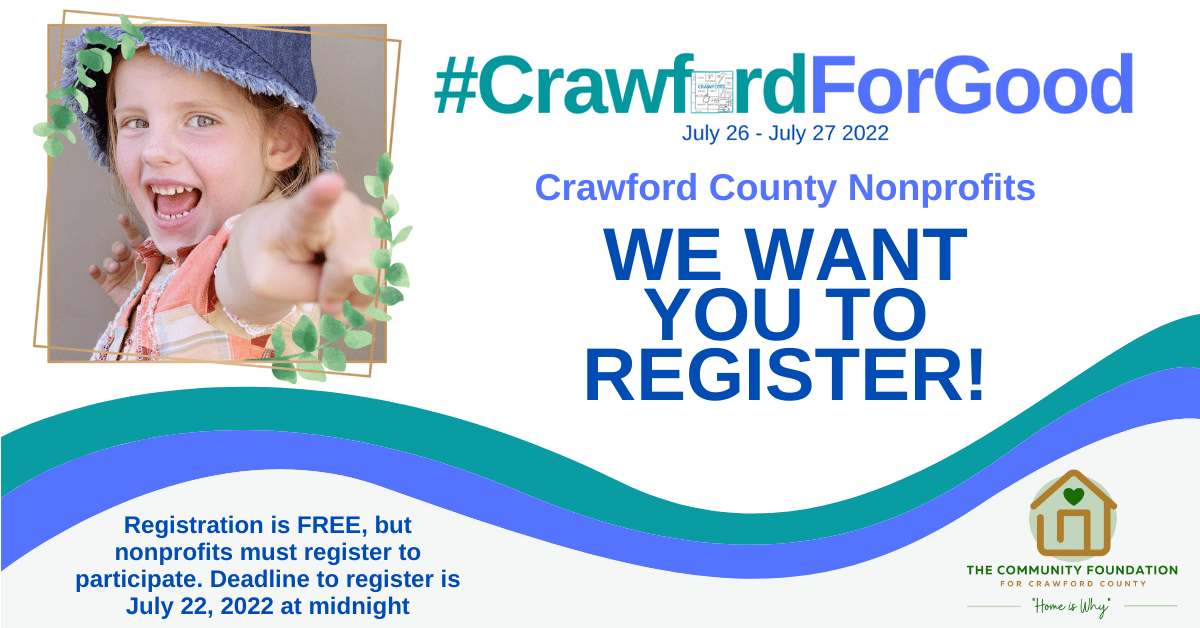 The list of registered participating nonprofits for #CrawfordForGood continues to grow each day. So far this list contains 15 Crawford County nonprofits!
If your organization hasn't registered don't wait - register now! Our 2-day online giving event, #CrawfordForGood, starts Tuesday, July 26th at 8am and continues through 8pm on Wednesday, July 27th. Deadline for registration is Friday, July 22nd at midnight. If you are a nonprofit in Crawford County, we urge you to get on the registered list. Register now at www.cfcrawford.org/crawfordforgood.
Participation Benefits: The Foundation is matching donations raised online during the event on a pro-rated basis from a pool of $10,000 being offered by our Board of Trustees, Park National Bank, and Wurm's Woodworking Company. The Foundation will not be keeping any of the money raised – it is all going back out directly into the hands of the nonprofits that raise it.
We look forward to partnering with you!
REGISTERED AND PARTICIPATING CRAWFORD COUNTY NONPROFITS (at the time of publishing):
Broken Arrow, Inc.
Bucyrus Backpack Program, LLC
Crawford County Ag Society/Crawford County Fair
Crawford County Society for Aiding the Physically Disabled
Crawford Reads 20
Crawford Works
Crestline Community Enhancement Fund of Projects, Inc.
Crestline Youth Sports Fund of Projects, Inc.
Galion Community Theatre
Galion Golden Age Center
Ignite 365 Outreach, LLC
Rescued Rollers
St. Joseph Community Outreach Program
Team Focus, Inc.
United Way of North Central Ohio, Inc.
To view a current up-to-date list of registered and participating nonprofits at any time, click here.

#DoGoodForGood