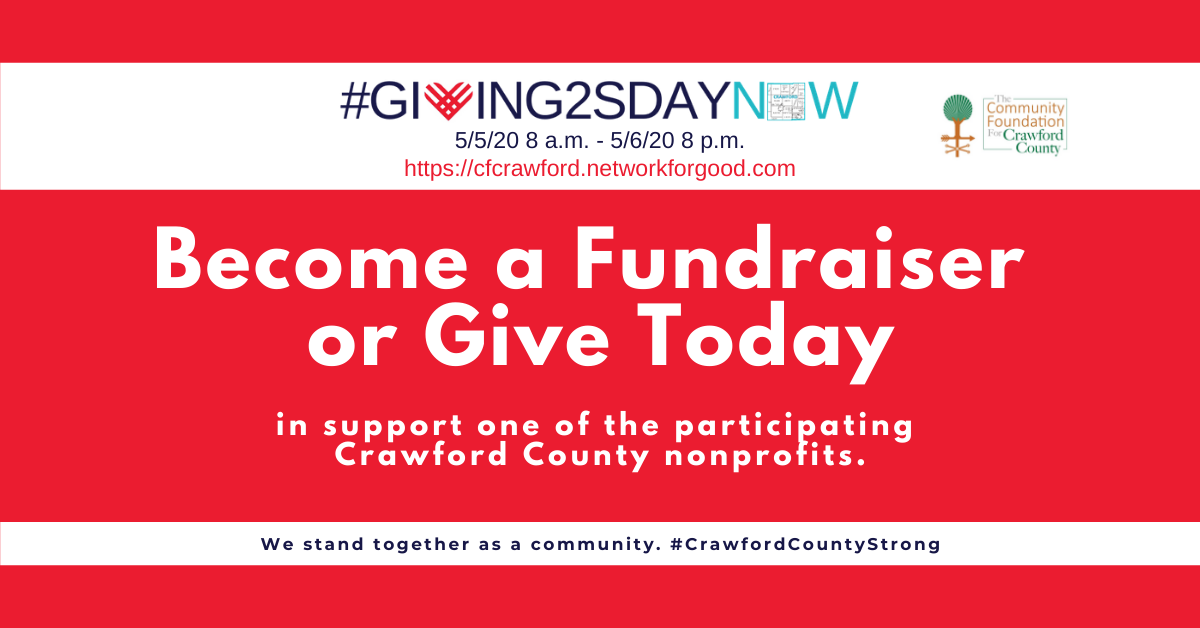 All of our participating Crawford County nonprofits need your help and support. Each one has partnered with the Foundation to participate in #Giving2sdayNow, a 2-day online giving event with the goal of getting these nonprofits much-needed operating funds NOW. The event will continue until 8 p.m. on Wednesday, May 6th and will take place on our Network For Good platform website, https://cfcrawford.networkforgood.com.
What can you do to help? That's easy. Choose to become a fundraiser for one of our participating nonprofits or give during the event.
Choose one of the participating nonprofits and become a fundraiser on their behalf. Build your own page to advocate and fundraise for your chosen nonprofit. It's fast, fun, and easy! Then share your page via social media, text, and email to ask your friends and family to give. We even have a short step-by-step video that breaks the process down for those wishing to create their own page. To become a fundraiser or view the instructional video, go to https://cfcrawford.networkforgood.com.
Give now to the participating nonprofit(s) you love. No amount is too small, and nonprofits need our support NOW more than ever. You could even double your gift as the Foundation is matching dollar for dollar the first $35,000 raised online during the event. These matching funds were made possible by a $25,000 pledge from the Foundation's Board of Trustees and a very generous $10,000 donation from Doug and Renee Leuthold. And with the Foundation covering all online donation fees, 100% of all donations will be going directly back to the participating nonprofits!
Generosity has the power to unite and heal communities in good times and bad. A pandemic threat like COVID-19 affects more than just the infected – it touches every person's life in one form or another. However, we are presented with a perfect opportunity to come together as a community.
We stand together as a community. Be a part of the solution - show your support and rally to do good! #CrawfordCountyStrong