SCHINE'S ART PARK PROJECT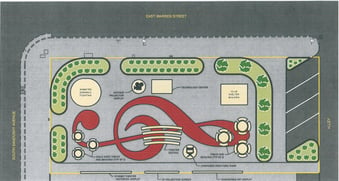 The Schine's Art Park, once completed, will be a showcase for our community. We are asking the public for help in raising the funds necessary to complete this project. Remember when the Mural on the Square and the Lady Liberty Mural needed help from the public to repair damage in 2013? The citizens of Bucyrus and surrounding communities rose to the challenge to pay for the repairs. Remember when the Aumiller Park Pool was in need of repairs so it could open in 2014? Again, the citizens of Crawford County responded with the funds necessary to make the repairs. To prepare the site for construction of the Schines Art Park, an adjacent wall to 310 S. Sandusky Ave., currently the site of Midwest Furniture, needs to be constructed. Structural engineers have recommended that the city build the wall to stabilize the site, but the City of Bucyrus doesn't have the money for it. The grant funds from the state may only be used for the construction of the park, not for building the wall. The City of Bucyrus needs help from the public to be able to finish the work to prepare the site for The Schines Art Park Project. The city hopes to have the project finished by the end of this year, but they can't do it without your help.
Donations are welcome to help fund this project. -- Just click the "Donate Today" button above. Once there, select the "Demolition Fund for Schines Art Park" on the dropdown menu to help the City of Bucyrus create another showcase for our community.
Community Foundation for Crawford County Mission
As a catalyst, the foundation works to enhance the quality of life for all residents of Crawford County by:
Offering a flexible vehicle that assures donors' charitable interests and goals are realized.
Offering support (financial, expert/technical assistance) in response to emerging community needs.
Standing ready to partner with community organizations and collaboratives in support of promising innovations.
Confirmed in compliance with National Standards for U.S. Community Foundations