The Community Foundation for Crawford County is pleased to introduce Kylee Tighe, a 2019 recipient of one of the twenty Margaret and Donald Wenner, MD Scholarship awards.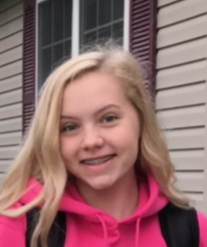 Kylee, the daughter of Gerald and Tracy Tighe, is a 2019 graduate of Bucyrus High School. She will be attending Marion Technical College this fall and studying nursing.
Kaylee chose nursing to help others. "I have a condition called F.A.P. [or familial adenomatous polyposis]. It is where I get polyps in my intestines and have to get yearly scopes to remove them to prevent colon cancer. In 2009, I had a scope and my doctor perforated my bowl. That's when I had my first surgery. In May 2010, I had another surgery to remove my ostomy bag, and I continue to do my scopes each year. This is why I choose the major nursing. I want to be able to help people the way I was helped." After graduation, Kylee wants to work in her field. "I plan on getting a job in a hospital for emergency nursing."
Congratulations and good luck in the future, Kylee!
To learn more about the scholarships offered through the Foundation, visit www.cfcrawford.org.