The Community Foundation for Crawford County is pleased to introduce Zoltan Feldman, a 2019 recipient of two scholarship awards: the Mount Zion Milton Harmon Scholarship and the Daryl E. Stucky Memorial Scholarship.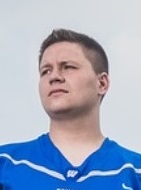 Zoltan, the son of Chad and Amy Gebhardt, is a 2019 graduate of Wynford High School. He will be attending Miami University this fall and studying integrated science education.
Past teachers were the inspiration to choose education. "I was inspired by my many past teachers at Wynford," he stated. "These teachers showed me that an educator can inspire a student to achieve their best … [and] know that every student has the ability to do great things. I hope to continue the lessons Wynford teachers have taught me." After graduation, Zoltan plans to work in a high school. "I want to become a high school science teacher…[and] teach physics and chemistry. I also want to study abroad during my time in college. Studying abroad may help me become a better educator and an overall person."
Congratulations and good luck in the future, Zoltan!
To learn more about the scholarships offered through the Foundation, visit www.cfcrawford.org.