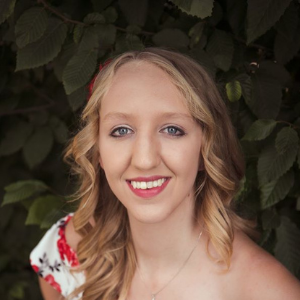 The Community Foundation for Crawford County is pleased to introduce Alexis Adams, a 2021 recipient of one of the 19 Doug and Renee Leuthold Scholarship awards and one of the 19 Margaret and Donald Wenner, MD Scholarship awards.
Alexis, the daughter of Trent Adams and Amanda Bachtell, is a 2020 graduate of Bucyrus High School. She will be entering her second year of a bachelor's degree in film at Ohio University this fall.
What is your favorite aspect of college life?
"While there are numerous aspects of college life that I've found to be enjoyable, my favorite part is likely the multitude of new experiences college life offers in the form of student organizations! Granted there are always student organizations for your current hobbies and interests, but it's a great way to try new things! For example, I had joined Ohio University's fencing club during my first year! While the club hasn't had a chance to meet in person yet while I've been at OU, I've still found it to be an exhilarating experience so far, and I can't wait until I get to take part in person! Now, if sports-type clubs aren't your thing, fear not! There are clubs for nearly everything you can imagine! You can find organizations that align with your career goals, or various forms of dance if that is more to your liking, and much more! Therefore if there's something you've always wanted to try, but haven't had the opportunity to, you might find the chance with student organizations! So in short, I suppose student organizations are my favorite aspect of college life because they offer the possibility of so many new experiences!"
What new interest or courses of study have you discovered at college?
"Admittedly, my interests regarding my courses of study have remained unchanged. However, I've found that I seem to quite enjoy Fencing! Due to the circumstances surrounding college life during the 2020-2021 academic year, the Ohio University Olympic Fencing Club was unable to have in-person meetings and practices with equipment. However, they held weekly zoom meetings during which we'd learn about the rules and formalities of fencing and fencing meets, along with footwork, stances, and the three different forms of modern fencing. Most of the time we'd even all practice the stances and footwork, to help previous members stay on the top of their game, and to help newer members like myself (especially those of us without prior fencing experience) to learn the foundations of fencing! Going into the 2021-2022 academic year, I plan to continue participating in OU's Fencing Club, but I am also considering joining the Tango Club as well. While I've been part of a local dance studio since I was a child, I discovered a few years back that formal/ballroom dancing is an activity I find enjoyable as well. Therefore, seeing as I could no longer participate in the local dance studio after I had graduated from BHS, and that I have an interest in formal/ballroom dancing, the tango club may be of interest to me. However, I have to wait and see if I have time for it on campus before I make a final decision on the matter."
In what ways has the college experience changed/improved you?
"I would say the college experience has changed and improved me in a couple of different ways, but primarily I feel that my college experience has helped me to improve my time management skills. As a film major, a lot of the work for my film classes required me to spend a considerable amount of time outside of class to be spent working on projects. After all, there's a lot that goes into filmmaking. On top of that, I still needed to stay on top of my work in my other classes and balance all of that with downtime and rest so as not to get overwhelmed. That being said, it didn't take long for me to find a nice balance that allowed me to get everything done that needed to be done and to enjoy my college experience."
What advice would you give an incoming college freshman?
"All in all, I would just have to say to make sure you get out there, be yourself, and try new things! If there's a new sport or hobby you've been wanting to try, do it. If you've been wanting to try out a new hairstyle or style of clothing, do it. If you don't want to try something out alone, find a friend or someone else in your dorm that's willing to try it with you! Now I know this sounds a bit cliché, but I ask that you do seriously consider what I have to say on the matter! Everyone I've met so far at college has been incredibly kind and accepting individuals! You have no need to be afraid of being yourself or trying new things. Everyone is just as unique, quirky, and amazing as you are! You just have to get out there and find them!"
Congratulations and good luck in the future, Alexis!
To learn more about the scholarships offered through the Foundation, visit www.cfcrawford.org/scholarships.