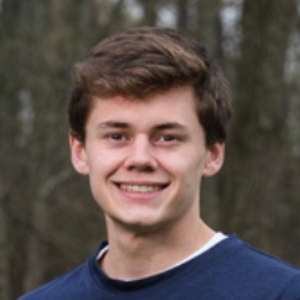 The Community Foundation for Crawford County is pleased to introduce Tyler Bishop, a 2021 recipient of one of the 19 Margaret and Donald Wenner, MD Scholarship awards.
Tyler, the son of Scott Bishop and Erica Halm, is a 2020 graduate of Bucyrus High School. He will be entering his second year of a bachelor's degree in mechanical engineering at the University of Toledo this fall.
What is your favorite aspect of college life?
"My favorite aspect of college life is the adventure. There is no shortage of events or activities in and around campus, and the variety of such provides an outlet for everyone. All of the people I have met in college so far, including everyone from the students to the professors, have been kind and welcoming. The food is also amazing, which was an important factor in my college decision."
What new interest or courses of study have you discovered at college?
"I have enjoyed all of my classes so far. It's kind of difficult to describe what my favorites and least favorites were due to the fact that all of my classes were online over Zoom. Classes such as my labs and engineering lessons would have been much different had we been allowed to hold in-person classes. One of my newfound interests due to the pandemic was a four-person outdoor game called Spikeball. COVID prevented many of the on-campus activities, but since I had three other roommates, Spikeball was one of the few activities that we were able to do on campus while maintaining safe COVID protocols."
In what ways has the college experience changed/improved you?
"My college experience has definitely improved my sense of self-responsibility. As many people know, I was not one to work on a high school essay shortly after it was assigned. In fact I often waited to start the assignment until it was almost due. I soon realized that was not the case in college. I had to prioritize my homework and essays over the fun activities that I would rather be doing."
What advice would you give an incoming college freshman?
"The best advice I could give to an incoming college freshman is to put yourself out there. I know it can be intimidating to meet new friends with so many people on campus, but most of them are looking to meet new people as well. Join some clubs that sound interesting to you or play in an intramural sports league. Don't be afraid to try new things and meet great people along the way."
Congratulations and good luck in the future, Tyler!
To learn more about the scholarships offered through the Foundation, visit www.cfcrawford.org/scholarships.