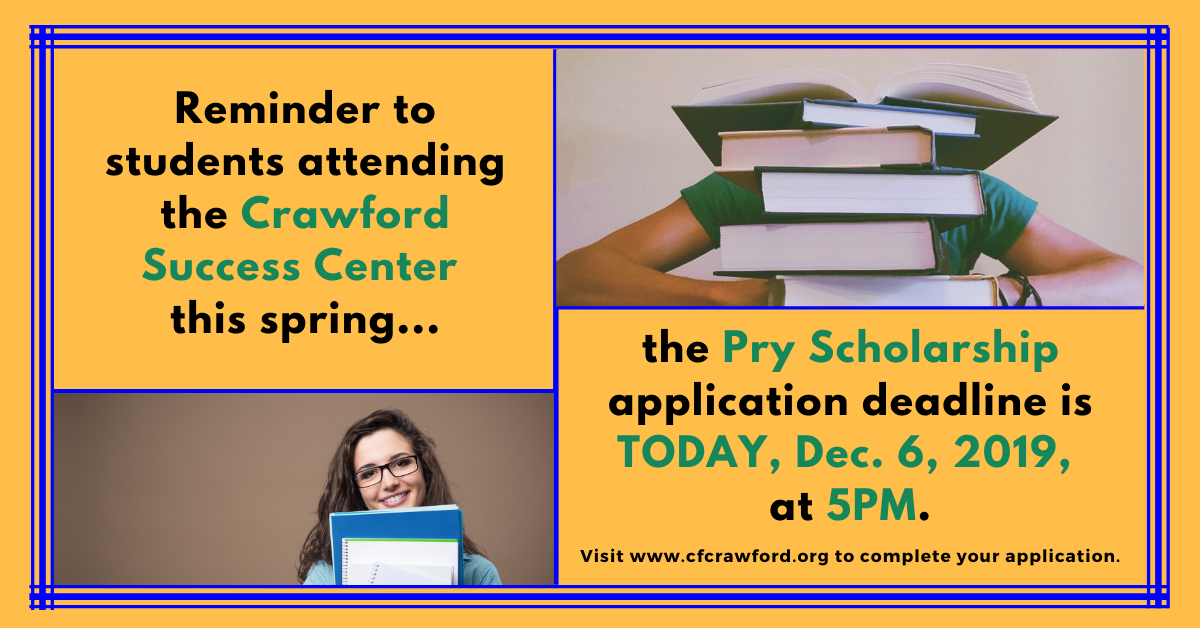 The Foundation would like to remind students that the Pry Scholarship application deadline is today, Dec. 6, 2019, at 5PM.
The Pry Scholarship was established in honor of retired Executive Director of The Community Foundation for Crawford County, Janet P. Pry, and is intended to help the non-traditional student improve their life through continuing education.
To be eligible for the Pry Scholarship, the applicant can be attending any accredited certificate program or two year degree program at the Crawford Success Center of North Central State College OR any equivalent program in the counties surrounding Crawford County. Preference will be given to those attending the Crawford Success Center, those who have previously been awarded the scholarship and are reapplying for renewal, and to non-traditional students. (A traditional student is considered a student who just graduated high school, is dependent on their parent(s), and does not have children.) Those reapplying for renewal of the scholarship may be attending any college or university. The applicant should be a graduate of a Crawford County High School, Pioneer Vocational School, or Tri-Rivers Vocational School OR if applicant did not graduate from a Crawford County high school, they must have been a resident of Crawford County for a minimum of three years. The scholarship may be renewed via re-application the entire time the student is in school.
The Pry Scholarship is awarded each semester (fall, spring and summer) with the deadline being approximately one month prior to the beginning of classes at North Central State College each semester. The exact date will always be on the application.
Don't miss your opportunity for free money for college - apply today!